"
لا يوجد شيء مثل القليل من الألم لتذكيرك بأنك على قيد الحياة.
"
- الغراب لجاسبر

الغراب رييس هو شخصية رئيسية في الثانية ، الثالثة ، الرابعة ، الخامسة ، السادسة ، و السابعة مواسم، بعد أن ظهر كحرف المتكررة في أول الموسم. تم تصويرها من قبل عضو فريق التمثيل ليندسي مورغان وظهرت لأول مرة في " مهارات الأرض ".
أثناء وجوده على الأرض ، كان Raven هو خبير الميكانيكا والمتفجرات الأساسي للمنحرفين . Raven ليست جزءًا من مجموعة الـ 100 الأصلية ، ومع ذلك ، فهي تشق طريقها إلى الأرض بمساعدة أبيجيل جريفين للانضمام إلى صديقها ، فين كولينز ، من خلال تجديد حجرة الهروب . بمجرد وصوله إلى الأرض ، يبني Raven راديوًا يسمح للجانحين بالاتصال بالسفينة . كما أنها أنشأت أجهزة اتصال لاسلكية، والرصاص والقنابل اليدوية والقنابل ل100، وحتى يرشد كلارك غريفين و يشب الأردن حول كيفية تزوير دروبشيب إلى "الانفجار وقع" في الموسم خاتمة واحدة.
خلال الموسم الثاني ، تكافح Raven مع تلف الأعصاب في ساقها اليسرى من إصابة بطلقة نارية أصيبت بها عندما أطلقها جون مورفي على سفينة دروبشيب. كما يتعين عليها التعامل مع الآثار اللاحقة لمذبحة فين في توندك ، بما في ذلك مشاهدته يموت على يد كلارك. وتعرض للتعذيب الغراب في وقت لاحق من قبل Grounders عندما نعتقد حاولت تسميم بها القائد . بعد أن تسلل بيلامي إلى Mount Weather ، أقامت اتصالًا لاسلكيًا معه لمساعدته في تعطيل Acid Fog . في وقت لاحق ، قامت هي وويك بإخراج الكهرباء من Mount Weather عن طريق تعطيل السد. تم القبض عليهم من قبليتعرض Mountain Men و Raven للتعذيب مرة أخرى عندما يبدؤون في حصاد نخاع عظامها . في نهاية الموسم الثاني ، كانت في كامب جحا ، تتعافى من الأخير.
في الموسم الثالث ، تستمر Raven في معاناتها من آلامها. انضمت إلى عبادة ALIE في محاولة للتحرر منها ، لكنها تمردت عندما أدركت أنها لا تستطيع تذكر فين. ومع ذلك ، تقدم Raven في النهاية إلى ALIE ، الذي يستخدمها لإجبار Abby على أخذ الشريحة ، مما أدى إلى سقوط Arkadia . تم تفكيك Raven لاحقًا ويعمل بنشاط ضد ALIE ، في محاولة لتدميرها من خلال الوصول إلى كود City of Light بمساعدة Monty و Clarke. تحتفظ بجزء صغير من كود ALIE في رأسها ، مما يزيد من سرعة معالجة دماغها ويجعلها أكثر ذكاءً بشكل عام.
في الموسم الرابع ، عادت Raven إلى Arkadia مع شعبها وتبدأ في تحصين Alpha Station للحماية من الكارثة النووية الثانية القادمة. بعد اكتشاف أن Nightblood يعطي مقاومة للإشعاع ، غادر Raven مع فريق صغير للذهاب إلى جزيرة Becca لمعرفة كيفية عكس هندسة الدم. هناك ، يبدأ Raven في المعاناة من النوبات والهلوسة ، لكنه تمكن من علاجه والعثور على صاروخ. في نهاية الموسم ، تهرب من بريامفايا بالتراجع إلى بقايا السفينة في الفضاء.
في الموسم الخامس ، يعيش Raven مع Spacekru على السفينة. بعد السفر مع Spacekru إلى Eligius IV ، تطوع Raven للبقاء في الفضاء بينما تعود بقية المجموعة إلى الأرض. عندما تم اكتشاف هي ومورفي على متن الطائرة ، تعرضت للتعذيب على يد ماكريري للحصول على معلومات. تطور علاقة رومانسية مع مايلز شو . في الموسم الخامس خاتمة المسلط (الجزء 2) ، الغراب تطلق Eligius IV مرة أخرى إلى الفضاء، بعد يسقط مكريري المسلط ، قنبلة Hytholodium، على عدن .
في الموسم السادس ، بقيت في Eligius IV ، بينما ينزل الآخرون إلى العالم الجديد القابل للسكن . عندما وصلت ورأت قبر شو ، انهارت بالبكاء. خلال الموسم ، تظل في المقام الأول بعيدة عن الأنظار تعمل في ورشة للآلات وتستكشف Sanctum. في البداية ، كانت تحاول فقط بناء مجمع لشعبها ، ولكن عندما تزداد التوترات بين وونكرو وبرايمز ، أصبحت طيارًا رائدًا ، عادت غاغارين من القمر إلى السفينة الأم. تعمل أيضًا على إزالة Sheidheda من Flame بشكل دائم ، وهو ما فعلته بنجاح.
في الموسم السابع ، تكافح Raven مع عواقب قراراتها بعد أن أدت جهودها لوقف انهيار مفاعل إلى وفاة أربعة أشخاص. يرتدي رافين درع أحد التلاميذ ، ويصبح دليلاً لمجموعة تستخدم الشذوذ الزمني للعثور على أصدقائهم المفقودين وإنقاذهم. في نهاية المطاف ، نجحت Raven في الاختبار لتحديد مستقبل الجنس البشري عندما أقنعت أوكتافيا بليك الفصيلين بالتنحي ، مما دفع القاضي إلى تغيير رأيها وتجاوز الإنسانية. مثل بقية أصدقاء كلارك ، اختارت Raven العودة إلى شكل الإنسان لتعيش بقية حياتها على الأرض.
وقت مبكر من الحياة
نشأ رافين وهو يعيش في محطة ميكا . غالبًا ما كانت والدة Raven المدمنة على الكحول تستبدل حصص Raven الغذائية مقابل لغو ، تاركة Raven تعتمد على Finn Collins ، الصبي المجاور ، الذي تقاسم حصصه معها وتذكر عيد ميلادها. على مر السنين ، اقترب الاثنان ، وفي مرحلة ما ، بدأوا علاقة رومانسية واستمرت والدة رافين في الشرب حتى وفاتها.
قرب عيد ميلاد Raven الثامن عشر ، قدم لها فين حلية معدنية مصنوعة يدويًا على شكل غراب أسود على سلسلة لحسن الحظ في امتحان Zero-G. اجتازت الاختبار بأول درجة مثالية منذ أن كانوا يعطونها ، لكنها فشلت في الاختبار الجسدي بسبب نفخة قلبية. لاحقًا ، أخبرها فين أن لديه هدية عيد ميلاد أخرى لها. استعار بدلة فضاء من خليج الصيانة ووجد طريقة لجعلها تسير في الفضاء التي طالما حلمت بها.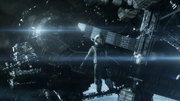 بعد السير غير القانوني لرافين في الفضاء أثناء خلع ملابسها ، دق ناقوس الخطر "خرق للباب الخارجي". حاولت Raven معرفة مكان خرق الباب ولكن انتهى بها الأمر بإرشاد Finn إلى استخدام التجاوز اليدوي لإعادتها إلى الفلك ، وبذلك ، فقد الثغرة ثلاثة أشهر من الأكسجين. ثم أمر فين ريفين بخلع بدلة الفضاء ليقوم بارتدائها لأن رافين كان فوق الثامنة عشرة وكان سيُطفو بينما كان فين لا يزال دون السن القانونية. بينما كان فين في Lockup ، كان Raven يذهب لرؤيته كل يوم زيارة.
في وقت لاحق ، ألغت سنكلير رفض فريق Raven الصحي لميكانيكي Zero-G وذهبت لتصبح أصغر ميكانيكي من فئة Zero-G منذ 52 عامًا.
في جميع أنحاء السلسلة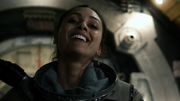 في Earth Skills ، في الفضاء ، تنتهي Raven من السير في الفضاء لإصلاح جزء من السطح الخارجي للسفينة ، وتعود من خلال غرفة معادلة الضغط ويساعدها Red وميكانيكي آخر على الخروج من بدلتها الفضائية. تسألهم عن إطلاق دروبشيب ويخبرها ريد أن حادثًا أثناء الصيانة الروتينية تسبب في إخراجها. Raven يرفع عقدًا بحلية معدنية على شكل غراب ويضعه. تطلب منهم إخفاء معداتها لأنها في طريقها لزيارة صديقها في Lockup . أخبرها ريد أن Lockup تم وضعه في الحجر الصحي بسبب بعض الفيروسات ولا توجد زيارة لمدة شهرين.
تجد Raven وتواجه آبي بشأن الحجر الصحي وكيف رأت القنوات المفتوحة. تشرح آبي أن الفيروس ليس منقولًا جواً ويواجهها رافين بشأن إخفاء المجلس شيئًا ما. في وقت لاحق ، يقوم جاكسون وآبي بمراجعة البيانات من الأساور عندما يمسك آبي رايفين بالتنصت من مجاري الهواء. يخبرهم رافين أن الجانحين لا يموتون ؛ إنهم يخلعون أربطة معصمهم لأنهم قيل لهم ألا يفعلوا ذلك.
يتم استدعاء Raven إلى مستوى الفلك الذي يعتبر محظورًا. يخبر آبي رافين أن الفلك يحتضر وأن لدى آبي عشرة أيام لإثبات أن الأرض قابلة للبقاء قبل أن تقلل عدد السكان بمقدار 320 شخصًا. تكشف آبي عن حجرة هروب عمرها 130 عامًا وتطلب من Raven الاستعداد لها في غضون تسعة أيام. أخبرها رافين أنها تستطيع فعل ذلك لكنها ستذهب مع آبي إلى الأرض.
في قانون مورفي ، تلتقي آبي مع رافين في السفينة التي تقوم بتجديدها. يخبر رافين آبي أن سبب التأخير هو أنها تحتاج إلى منظم ضغط قبل أن يتمكنوا من إطلاقه. أخبرت آبي رافين أن معصم كلارك انقطع وأخبرها رافين أنها ستحصل على منظم ضغط في ذلك اليوم. ثم يغادر Raven إلى قاعة Mess Hall للتحدث مع Nygel ، المرأة المسؤولة عن السوق السوداء على متن السفينة . طلبت منظم ضغط وأخبر نيجل Raven أنها ستحتاج إلى النوم مع رئيس قسم الكهرباء للحصول على الجزء. يخبر رافين Nygel بأن يطفو بنفسه ويخبر Nygel Raven أن والدتها توصلت إلى هذه الصفقة ... عدة مرات ، مما تسبب في أن يطير Raven من المقبض ويتم تنفيذه بواسطة عمال Nygel.
ثم يذهب Raven وينتظر في طابور طويل للحصول على الطب. تقترب من آبي وتسعل بتكتم. تجري آبي فحصًا طبيًا سريعًا عليها قبل إخراجها بعيدًا إلى مكان خاص ، موضحة أن الطابور الطويل يرجع إلى نقص الأكسجين. يخبر رافين آبي أن نيجل لن يمنحها منظم الضغط وأخبر آبي رافين أنها تستطيع الحصول على الجزء من نيجل. في وقت لاحق ، اقترب آبي من نيجل في قاعة الفوضى وأخذ بعض المورفين من نيجل لمنظم ضغط. بالعودة إلى سفينة الإنزال التي تم تجديدها ، قامت آبي بتسليم ريفين منظم ضغط وأخبرها رافين أن الأمر قد يستغرق بضع ساعات لتثبيته. بعد بضع ساعات ، كان آبي يتنقل بينما يعمل Raven على سفينة الإنزال. يدخل جاكسون عبر جهاز اتصالات آبي ويسأل عما إذا كانت قد سرقت المورفين. أخبرها أن كينفي طريقه لاعتقالها و Raven. لا تصدق آبي أن نيجل سلمها ويسأل ريفين كم من الوقت. يخبرها رافين بعشرين دقيقة وتقول آبي أن كين ستكون هناك في غضون خمس دقائق. أخبرت Raven أنه بغض النظر عن أي شيء ، تحتاج Raven إلى إطلاق الكبسولة ، معها أو بدونها ، وسيموت 300 شخص. تطلب آبي من رافين إخبار كلارك بأنها تحبها.
Raven gets the pressure regulator hooked up as Kane heads toward Mecha Station to arrest Raven and Abby. Raven realizes the pressure regulator is broken just as Kane approaches Abby who was waiting for him in a hallway. Abby tells him she did it for her daughter and she still believes the Delinquents are alive. Kane asks Abby what the pressure regulator is for and if there was even a staph infection. Raven dresses in a spacesuit since the pressure in the drop ship won't be regulated and begins the launch sequence for the pod. As Kane is having Abby arrested, Raven launches the drop ship and begins her descent to earth. Abby tells Kane they have to know the truth as Raven continues her descent to earth, her raven necklace floating weightless in the escape pod.
In Twilight's Last Gleaming, In Raven's drop ship, she is preparing to begin her descent through the atmosphere and is checking and setting her gauges. She pulls the retrofire lever and powers the thrusters to send her to earth. Raven is knocked unconscious from a head injury during the landing and Bellamy arrives to find her moving about but still unconscious. He takes out his knife and cuts the wires to the radio and yanks it out. He then takes it down to a river and tosses it in. Raven soon awakens and removes her space helmet, discovering she has a head injury just as Clarke opens the pod door and sees Raven. Raven then steps onto the ground for the first time, twirling in amazement and asking if it's raining. Clarke nods with a smile on her face and welcomes Raven to earth. Finn arrives and calls out to her. Raven runs up to him and they reunite and kiss passionately, much to Clarke's surprise. Finn asks Raven how she got to earth and she tells him how she rebuilt the pod. Raven starts to feel light-headed and Clarke comes over to assist with her head injury. Finn introduces Clarke to Raven and Raven tells Clarke how it was all Abby's doing. She then tells them about the planned culling and how they need to alert The Ark that the Delinquents are alive. They discover the missing radio and Clarke tells Finn and Raven they need to find Bellamy.
Clarke catches up to Bellamy in the woods and orders him to tell her where the radio is. She tells him about the Culling and how they are getting ready to kill 300 people for oxygen. Finn and Raven arrive and Raven tells him that they have been looking everywhere on the Ark for him. Bellamy tells her to shut up as Clarke asks why. Raven tells them how Bellamy shot Jaha and Clarke realizes that is the reason why he took the wristbands. Raven demands to know where her radio is and Bellamy tells her he should have killed her when he had the chance. Raven challenges him to do it and he shoves her up against a tree as she pulls a knife on him and asks again where her radio is. Bellamy lets her go and tells them Jaha deserved to die. Raven tells Bellamy he was a lousy shot and that Jaha is not dead. Clarke tells Bellamy this means he is not a murderer; he was just protecting his sister. Now it is time to protect 300 people and give them back the radio. Bellamy tells her it is too late but he ends up recruiting several Delinquents to search the river for the missing radio. Finn tells Clarke he should have told her about Raven. Clarke tells him she gets it: she was around and "passably cute." Just then, Jones finds the radio. Raven tells them it will take at least a half day to dry it out to see what is broken. Clarke yells at Bellamy for what he did and that 300 people will die because of him. Raven interrupts and tells them they don't actually have to talk to the Ark; they just have to let them know they are alive.
Back at the pod, Raven begins organizing the Delinquents on stripping her pod for spare parts to create rocket launchers. Clarke asks if they will be able to see the rockets from the Ark and Raven tells her that Abby will be watching for them. Back at the camp, the Delinquents start setting up the launchers for the flares. The Delinquents begin lighting off the rockets and watch as they go soaring into the evening sky.
In His Sister's Keeper, Raven cuts Finn's hair inside of his tent. When Raven asks him what he wanted to tell her before, Finn tells her it can wait. She worries that he plans to do something because the look he gave her was his "I'm going on a spacewalk" look. However, Finn tells her not to worry.
When the camp gathers to find Octavia, Raven and the 100 watch as the night sky lights up. Raven realizes that the flares didn't work and that 320 people were killed. Upset, Raven shouts and yells at Bellamy. However, Clarke stops her from hurting him or herself and tells Raven that Bellamy needs to live with what he did. The group realizes they need a working radio before more people are killed. Clarke reveals that she knows of a place that might have some of the parts Raven needs. Raven and Clarke decide to head for the secret bunker Finn found.
On the way to the bunker, Raven boasts about how "badass" Abigail is to Clarke, not knowing about their situation. Raven reveals her past and how she met Finn. Raven declares that Finn is her only family. Inside the bunker, Raven discovers a metal two-headed deer that matches her raven pendant. Raven notes that Finn must have made it. Clarke tells her they saw a two-headed deer on their first day on Earth. Clarke then finds an RC car and asks Raven if it would work. As Raven opens up the RC car, Raven tells Clarke that Finn always finds the beauty in the unexpected.
After they return to camp Clarke asks why Raven was silent on the way back to camp. Raven confronts Clarke about Finn. Raven asks Clarke to tell her she didn't sleep with him while she risked her ass to come down to Earth. Clarke tells her she can't say that. Clarke explains that she didn't know about Raven. Raven is visibly hurt because Finn never mentioned her nor could he wait 10 days to cheat on her. Before Clarke leaves Raven asks her if she loves him, to which Clarke replies that she hardly knows him. Raven breaks down in tears as Clarke leaves.
In Contents Under Pressure, Raven learns that Finn has been injured while trying to rescue Octavia. The only way to save him is to get into contact with the Ark. Raven manages to get the radio working and calls out for the Ark. Raven calls for Doctor Abigail Griffin in hopes that Abigail can help them save Finn. When they make contact with the Ark, Abigail instructs Clarke on how to properly take out the knife while Raven watches on. After Clarke successfully removes the knife, Raven asks if he should be so warm.
Raven watches as Finn begins seizing and calls out for Clarke. Raven begs Clarke not to let him die. Clarke realizes that he's suffering from poison and goes to get the antidote. Raven continues to try and help Finn. When the Grounder Bellamy captured refuses to tell them the antidote, Raven electrocutes him with wiring from the dropship. However, even after the electrocution, the Grounder refuses to talk. This frustrates Raven. Before Raven can electrocute him again, Octavia steps in and gets the Grounder to gesture to the correct antidote. After Finn has taken the cure, Raven is seen not to leave his side. Sometime later, Raven is awoken by Clarke when Finn awakens. Raven is relieved he is safe and hugs him.
In Day Trip, Raven watches as Clarke checks on Finn's wound from the day before. When Finn shows concern for Clarke leaving camp by herself, Raven tells Finn that Clarke can take care of herself. When asked, Raven promises Clarke that she will keep Finn in bed.
While cleaning up, Raven runs into Octavia. The meeting gets hostile as Raven admits that she will not apologize for hurting the Grounder because she was trying to save Finn. When Octavia makes a comment about how it must hurt coming to Earth and finding out Finn is in love with another woman, Raven tells Octavia that she refuses to fight with her. Raven leaves and heads back for her tent. When she returns to the tent she tries to reassure Finn's love for her, by sleeping with him.
After they sleep together, Monty barges into their tent acting weird. After Monty leaves, Raven hears a large amount of ruckus from outside of their tent. Raven tells Finn to stay where he is and she will go find out what's going on. Outside of the tent, Raven finds that everyone is acting weird. Unsure of what is happening Raven tells Finn to come out of the tent.
Raven is later seen helping Finn keep the 100 safe from themselves. Raven comforts Connor and when asked to repeat the phrase Raven repeats "You're the most beautiful broom in a broom closet of brooms", much to her dismay and then receives a hug from Connor.
In Unity Day, Raven watches on as Jaha makes a speech about Unity Day, and how the people of the Ark will be finally going home. When Miller reacts badly to the speech, Raven tells him to shut up and leaves.
Later, Raven is seen making bullets by dividing the remaining gunpowder they have into more bullet casings. When Raven learns that Finn plans on taking Clarke to meet with the leader of the Grounders, she joins Bellamy and Jasper.
While watching the meeting, Raven notices Octavia and mentions that now she knows how the captive Grounder escaped. Raven also notes that the "Grounder Princess" looks upset. Bellamy replies that their princess has that effect. When Jasper notices the Grounders in the trees, Raven helps Bellamy and Jasper defend Finn, Clarke, and Octavia. After they return to camp, Raven argues with Finn that bringing the guns to the meeting was the right thing to do.
In I Am Become Death, Raven with the rest of the gang explore the scene of the crashed Exodus ship. She tries to communicate with the Ark but is unsuccessful because of the power shutdown. When she learns from Octavia that the Grounders are to attack at dawn, Raven makes a bomb using the gunpowder and the rocket fuel to blow up the bridge. When Finn volunteers to place the bomb, Raven picks the bomb and runs to deploy it herself. On the way, she develops symptoms of the mysterious virus. She gets so weak but still tries her best to place the bomb. Luckily, Finn arrives and carries her away before she blows off the bomb which could have killed her too. Jasper & Monty blow the bomb as Finn carries Raven to safety. Back at the camp, she gets better but breaks up with Finn because he didn't hesitate to hold Clarke even though he knew she was infected by the contagious virus.
In The Calm, Raven and Finn are talking about their breakup, when Finn asks her if she is alright, she says everything is fine but is seen visibly upset. Later in her tent, Raven plans to leave the camp but Bellamy stops and comforts her by listing all of her accomplishments since landing on Earth. He calls her a pain in the ass but smart. Raven then later tries to move on from Finn so she recommends to Bellamy sleeping together. At first, Bellamy is hesitant but then gives in. After their encounter, Bellamy asks if it helped, but she says no. When Raven, Octavia, Monty, and Bellamy are in the woods searching for Clarke, Finn, and Myles, they find Myles and he says that Clarke and Finn were taken by Grounders. Raven is seen on the verge of tears and Bellamy stands up and tells her that he's sorry. Raven along with the rest of the group are shocked when Monty doesn't communicate back on the radio, realizing that he has been taken.
In We Are Grounders (Part 1), Raven is in the process of building the landmines and planting them around camp, as well as making bombs. She is interrupted when Murphy holds Jasper, and later Bellamy, hostage in the dropship and has to find a way to open the door. Raven slips into a hatch under the ship and is able to open the door but gets shot by Murphy in the process.
In We Are Grounders (Part 2), the bullet is still inside Raven. She is found unfit to walk on their journey and was to be carried on a stretcher had the trip not been called off. After telling Clarke about the rocket fuel under the dropship, they get the idea to use the rocket to set the Grounders on fire and need Raven to help them utilize it. However, the bullet inside her has made its way to her spine, making her lose sensation in her legs. Since she is bleeding internally and losing blood fast, and might die before she gets to make the rockets work, Finn decides to get the coagulant from Lincoln's cave to buy her some time. She continues to instruct Clarke in finding the wires she needs and later employs Jasper's help. While instructing Jasper and Clarke, Raven begins to get weaker and eventually loses consciousness. Despite being unconscious, she was at least able to tell them how to make it work, which Jasper succeeded in doing, albeit differently. Finn later arrives just in time and Clarke is able to give her the coagulant.
في The 48 ، شوهد Grounder يتفقد الجثث خارج سفينة الإنزال. يمشي داخل السفينة حيث يرى رافين. بافتراض أنها ماتت ، يقلبها لكنها تطلق النار عليه بدلاً من ذلك. تسمع شخصًا قادمًا وتستعد للتصوير مرة أخرى قبل أن تراه هو جون مورفي. يطلب منها ألا تطلق النار لكنها تضغط على الزناد عدة مرات على أي حال ، ومع ذلك ، لم يتبق أي رصاصات. يأتي ويجلس ويقول ، "كنت سأطلق النار علي أنا أيضًا". يسأل رافين مورفي عن سبب وجوده هناك فيجيب ، "تموت ، مثلك". بدأت تسعل دمًا وهرع إليها محاولًا مساعدتها على الوقوف بجانبها. عندما تسأل لماذا يساعدها ، يقول ، "لا أريد أن أموت وحدي." مورفي تعتذر لـ Raven لإطلاق النار عليها. سألته لماذا هو نفساني جدا. يكشف أن والده سرق دواء لإبقائه على قيد الحياة ، دواء لم يكن لينجح على أي حال. تم القبض على والده وطفو على سطح الماء وبدأت والدته في شرب نفسها حتى الموت. قبل أن يجدها مورفي ميتة ، أخبرته أن والده مات. في وقت لاحق،عند وصولهم إلى سفينة الإنزال ، أخبر رافين آبي أن كلارك قد رحل وأن آبي تترك رسالة إلى كلارك على ظهر السفينة قبل مغادرتهم السفينة لمقابلة الناجين الآخرين من السفينة في كامب جاها .
في طقس عاصف ، أخبرت آبي رافين أن الرصاصة لا تزال في عمودها الفقري. إذا حاولوا إخراجها ، فقد تموت من الجراحة لأنهم ليس لديهم تخدير ولكن إذا تركوا الرصاصة ، فقد لا تتمكن من المشي مرة أخرى. تريد فين أن تترك الرصاصة لكن ريفين تحتج قائلة في الفضاء إنها لا تحتاج إلى ساقيها لكنها هنا في الأسفل. لاحقًا ، تجهز آبي Raven لإجراء عملية جراحية مع فين بجانبها. آبي على وشك أن تبدأ الجراحة لكن ريفين يصرخ ، "توقف". يهدئها فين وتبدأ آبي من جديد بينما يصرخ رافين من الألم. بعد الجراحة ، تختبر آبي الشعور في ساقي Raven ولا تستطيع Raven الشعور بأي شيء أسفل الركبة في ساقها اليسرى. تخبرها آبي أنها مصابة بتلف في الأعصاب. رافين يقول لفن "الجانحون .
في
العديد من Happy Returns
، في كامب جاها ، تم إخلاء سبيل Raven من أداء الواجب وتقول إن ساقها ليست عاملاً في قدرتها على العمل.
يكلفها Sinclair
ببناء منارة راديو لمساعدتهم في العثور على ناجين آخرين من
The Ark
. تذهب Raven للعمل على منارة الراديو عندما تصطدم بـ
Wick
. أخبرها أنه صمم مخططات المنارة وصنع شيئًا لها أيضًا: دعامة للساق. ينتقد رافين جهوده على دعامة الساق أثناء قيامهم بالعمل على المنارة. في وقت لاحق ، تحاول Raven تسلق برج الراديو لإصلاح منارة الراديو لكنها ترفض تجربة الدعامة التي صنعها Wick لها. تكافح من أجل تسلق البرج لكنها أدركت في النهاية أنه من المستحيل عليها الآن أن تفعل ذلك بساقها المصابة وعليها أن تعترف بالهزيمة. يعترف ويك لـ Raven أنه طلب منها على وجه التحديد العمل معه على المنارة لأنها أفضل ميكانيكي لديهم. أخبرها أنها بحاجة إلى إيجاد طريقة للتغلب على ساقها من خلال السماح لأصدقائها بالمساعدة لمرة واحدة. يوافق ريفين أخيرًا على تجربة دعامة ساقه. في النهاية،
الرائد بيرن
الذي يخبرهم أنهم قد أنشأوا هدفًا. أخبرها ويك أنه يعتقد أن الأرضيين يعرفون بالفعل مكانهم لأنهم سقطوا من السماء في "ملعب كرة القدم". يأمر بيرن جميع الحراس بالتوجه إلى الجدران ويطلقون النار على أي غراوندر على مرمى البصر.
في Human Trials ، يستيقظ كلارك بعد أن كان نائمًا لمدة 10 ساعات ويخرج ويرى رافين وهم يحتضنون. بيلامي و اوكتافيا العودة إلى كامب Jaha والغراب يقول لها للذهاب نراهم حتى يدير كلارك لاستقبالهم، وإعطاء بيلامي واوكتافيا العناق. تخبرها بيلامي أن الفنلندي لا يزال يبحث عنها وقرروا ملاحقة فين. يلتقي رافين بهم في قسم من البوابة المحيطة بمعسكر جحا. وصل أوكتافيا واستعدوا. ثم لدى Raven الفتيلقطع الكهرباء عن تلك المنطقة من السياج وخرج بيلامي وأوكتافيا وكلارك إلى الغابة. في وقت لاحق ، وجدت آبي ملاحظة تركتها كلارك تخبرها أنها وبيلامي كانا يلاحقان فين ومورفي. تواجه Raven حول مساعدتهم على الهروب ويكذب عليها Raven. صفعت آبي ريفين وأخبرتها أن كلارك لا تزال "مجرد طفل". يخبر رافين آبي أن كلارك "توقفت عن كونها طفلة في اليوم الذي أرسلتها فيه إلى هنا لتموت".
In Fog of War, two days after Finn's massacre at Lincoln's village, Raven arrives in the outside bar area of Camp Jaha where Clarke and Murphy are seated. She tells Murphy to leave before she reveals to Clarke that she figured out why they had not heard from any of the other Stations: Mount Weather has been jamming their signals. Major Byrne witnesses the conversation and tells Abby. Later, while Raven is explaining to Clarke how Mount Weather has been jamming their signals and even crashed the Exodus drop ship that came down on Unity Day, Abby interrupts them and tries to stop them. Clarke and Raven convince Abby that they need to take down the radio tower on Mount Weather so they can find any other Ark survivors to help build their army. Abby tells Byrne to stay behind and guard the camp because Abby will be going with them to Mount Weather.
Clarke, Abby, Raven, and several other Sky People hike to Mount Weather to take out the radio tower. They stop and survey Mount Weather and Raven spots the radio tower. Finn gets upset because of the way everyone is acting toward him since the massacre and storms off with Clarke following after. Acid Fog suddenly starts rolling toward them and Clarke and Finn take off for the bunker. Meanwhile, Abby and Raven have taken cover in a tent from the Acid Fog as Raven attempts to get a radio signal. She picks up an encrypted channel and realizes they will be able to listen in on Mount Weather. Eventually, while they're still trapped by the Acid Fog, Raven breaks the encryption on the radio channel and they overhear the Mountain Men discussing "the veil." Abby wants to blow the radio tower to find out if there are any other Ark survivors but Raven tells her if she does blow the tower then they won't be able to listen to the enemy anymore and that she knows what Clarke would do. Once Clarke and Abby meet back up at Camp Jaha, Abby tells Clarke that they decided against blowing the radio tower because they're not sure if there are any Ark survivors but they are sure that there are 47 Sky People trapped in Mount Weather.
In Spacewalker, Clarke arrives at Camp Jaha after speaking with Lexa, the Grounder Commander, who has ordered Finn's death for the massacre of Tondc before their truce with the Sky People can begin. Most of the Sky People want to give Finn up to the Grounders, especially because he wasted three months of oxygen on The Ark for the spacewalk that got him imprisoned. A fight breaks out with Raven punching Major Byrne. Later, Abby visits Raven where she is locked up in the stockade with Jaha after striking Major Bryne and allows her to go free. Jaha tells Abby she should give Finn up to keep them safe. They then meet up with Kane to discuss the situation. When Abby leaves the room, Bellamy and Raven confront her, asking her what they're planning to do with Finn and she tells them they are all trying to find a way out of the situation. Bellamy takes that to mean they are giving Finn up so Bellamy goes looking for Finn to help him escape.
Later, Bellamy, Raven, and Murphy (by Raven's invitation) arrive at the drop ship and wait for Finn and Clarke. Finn arrives at the drop ship, carrying an unconscious Clarke. Bellamy and Murphy take care of Clarke while Raven tries to comfort Finn and they promise each other that they will always be family. Clarke wakes up and Finn tells her he thought she was dead because of him. Bellamy shouts a warning to them that the Grounders have arrived and they are surrounded. Raven wants to give up Murphy instead of Finn because Murphy was also in the village. Finn steps between Raven and Murphy and tells them they need to stay and defend the drop ship. He instructs Murphy to go upstairs and watch the back while he takes the lower level of the drop shop and Bellamy, Raven, and Clarke will take the front gate. Finn and Raven hug goodbye and Finn tells her, "May we meet again." He then climbs out the bottom of the drop ship. Clarke, Raven, and Bellamy are watching the front gate when they say Finn step out in front of them and surrender himself to the Grounders.
Back at Camp Jaha, Clarke, Raven, Bellamy, and the rest of the Sky People watch as the Grounders start setting up for Finn's execution. Abby says there is nothing to be done. Clarke, Raven, and Bellamy then meet up at Raven's Gate where Raven gives Clarke a knife so Clarke can kill Lexa because Raven owes Finn her life. Clarke approaches and Lexa tells Indra to let Clarke through. Clarke asks if she can say goodbye and Lexa allows her to. Clarke walks over to Finn and hugs him, telling him she loves him and that he will be okay. He says, "thanks, Princess" and she steps away from him to reveal that she had killed him with the knife Raven gave her. Lexa tells her warriors that it is done and keeps them from attacking. Raven screams and crumples in hysterical grief while Bellamy catches her and holds onto her.
In Remember Me, Clarke approaches Raven who is kneeling over Finn's body and tells Raven she is leaving with the Grounders and Raven needs to work on the radio. Raven tells Clarke she's coming too and will bring the radio. Clarke then gestures to the Grounders to take Finn's body away. The next day, they arrive at Tondc and everyone has to disarm before entering. Raven stubbornly forces Gustus to search her and disarm her. As they enter the village, Grounders shout at the Sky People, calling them murderers. One man stands in their way because he lost both his wife and child. Gustus fights the man and is about to kill him when Clarke begs Lexa to stop him so the Sky People won't get blamed. Lexa calls it off and announces to everyone that if anyone tries to stop the alliance, they will pay with their life. Later, Raven watches as Lexa gives a eulogy for the dead in front of a funeral pyre. She then passes the torch to Clarke who steps up and as she lights the pyre guided by Finn's hand, she says, "Yu gonplei ste odon" ("Your fight is over").
Later, at the alliance banquet, Kane brings forward some liquor to share. Clarke and Lexa both take a goblet but Gustus stops Lexa and takes a sip first before giving it back to her. As they toast and are about to take a sip, Gustus falls over having been poisoned. The Sky People are searched and they find the poison on Raven. She claims it is not hers and that Gustus put it there when he searched her. Lexa commands for all of the Sky People to be locked up. Clarke asks Raven if she really had tried to poison Lexa and Raven punches Clarke in the face. Nyko and Indra return and take Raven away. Indra tells them that Lexa is merciful and only wants Raven to die. The rest of them are free and they should run. Raven is then tied up outside to a pole where Lexa and Indra begin the "Death by a 1000 Cuts." Clarke then runs outside and asks Nyko for the bottle and drinks from it, showing it wasn't poisoned. Bellamy realizes that it was Gustus who poisoned the cup because he was trying to protect Lexa from the alliance. Lexa commands him to be tied up in Raven's place. Later, as Gustus is suffering from the Death of a 1000 cuts, Raven realizes that would have been Finn. Lexa approaches and Gustus tells her to be strong. She says, "Yu gonplei ste odon" as she delivers the final blow straight through his heart. That night, Raven gets the radio signal from Mount Weather and hears Jasper's message.
In Coup de Grâce, Raven and Clarke are at Camp Jaha, listening to the radio when Octavia enters, asking if there's any word from Bellamy and that Lincoln is still missing, too. Clarke tells her and Raven that Bellamy will get in. Later, Clarke comes to tell Raven that Mount Weather has already started bleeding the Delinquents and that it is over. Raven tells Clarke she is not allowed to give up and it is her job to come up with something. Just then, Bellamy's voice rings through on the radio, asking if anyone can hear him. Clarke picks up the radio and Bellamy tells her that the Delinquents have been locked up and that things are going to get ugly. He tells her that they need a plan that doesn't kill everyone because there are kids in there. Clarke tells Bellamy that he needs to turn off the Acid Fog and free the imprisoned Grounders. Bellamy asks Clarke to buy him some time so they won't discover him inside the mountain just yet.
In Rubicon, at Camp Jaha, Clarke asks Raven if Bellamy has checked in yet. She's worried because he's late. Clarke sees that Raven has been working on plans for the dam and asks her how many tone generators have been created to stave off the Reapers. She gets upset when Raven tells her they only have two so far. Bellamy comes in over the radio and Clarke scolds him for being late. Bellamy tells Clarke about how the Delinquents are being taken away one at a time. Clarke tells Bellamy to find the missing Delinquents and leaves to tell Kane that she is no longer going to Tondc so he needs to go instead.
In Mount Weather, Bellamy is crawling through the air vents trying to find the missing Delinquents. He hears the sound of drilling and heads down a duct toward the noise and witnesses Dr. Lorelei Tsing drilling into the now-dead Delinquent she had chosen earlier and extracting bone marrow to give to Emerson. Cage Wallace asks Emerson about Clarke and Emerson gives him the message that they're supposed to release the Delinquents. Cage then tells Emerson that it doesn't matter because tonight, he's going to drop a missile on Tondc where all of their leaders are meeting. Bellamy asks Clarke and Raven if they heard everything through his earpiece and she tells Raven she's leaving for Tondc. Bellamy asks after Octavia and Clarke lies that she's not there anymore. Raven gives Clarke a hug goodbye. Later, in Mount Weather, Bellamy is crawling around in the air vents again while he talks with Raven over the radio. Raven accidentally mentions Octavia is in Tondc and Bellamy is bothered that Clarke would lie to him. Raven tells him to focus.
In Bodyguard of Lies, in Mount Weather, Bellamy discovers his access card has stopped working. Raven asks over the radio if he's found the Acid Fog room yet and he tells her he'll call her back once he finds another way in. Meanwhile, Raven and Wick are at Camp Jaha working on a solution to help Bellamy disable the Acid Fog. They discuss the possible components of what makes Acid Fog and how they can go about neutralizing those components. Raven wants to take down the machine while Wick wants to neutralize the acid. Bellamy then calls into Raven once he entered and begins to describe the Acid Fog room. Bellamy starts reading off what he sees on the monitor and asks if he can just blow it up. Raven tells him he would probably melt his face off.
Wick and Raven continue trying to guide Bellamy through how to disable the Acid Fog while Bellamy reads them all of the menu options. When he gets to "Maintenance and Cleaning," Raven and Wick come up with the idea to use the "Passivation" process to neutralize the acid. Bellamy selects it and the machine whirs to life. He watches as the pH rises from 0 (acidic) and climbs to 7 (neutral) before a message flashes that the "Passivation" was successful. Raven and Wick accidentally hug in celebration and Bellamy tells them to send a flare, letting Clarke and Lexa know the Acid Fog has been disabled. Raven returns to the lab after shooting off the flare and begins kissing Wick and they have sex. Afterward, Raven gets dressed while Wick tells her to stop playing games and figure things out. Raven tells him they have a war to win.
In Blood Must Have Blood (Part 1), Raven and Wick arrive at Philpott Dam, tasked with taking out the five turbines that keep the power running in Mount Weather. It will cause a one-minute delay before the backup generator kicks in, allowing Clarke and Lexa time to get the main door open. They start setting bombs on the turbines of the dam. They have completed three with two more to go when Raven tries to lighten the mood with some jokes but Wick is being moody because she pushed him away after they had sex. They hear a voice come across a radio in the room asking for "402, please report" when Wick is suddenly tackled by a Mountain Man trying to get to the radio. Wick beats him over the head with a metal tool and kills the man. Wick stares in shock as the radio voice tells 402 that backup is on its way. Raven tells Wick they need to hurry. They realize that in the scuffle, the last bomb dropped and broke, meaning they can only blow 4 of the 5 turbines and the power won't shut off. They start bickering about having lost the last bomb and how they should have brought an extra one when it makes Raven consider the redundancy of the turbines. If they blow 4 of the 5 turbines, the fifth one will keep running but at a lower capacity to keep it from taking the full load of the other 4 missing turbines. All she needs to do is make it take the full capacity of the other 4, causing it to overload into "catastrophic failure." Raven tells Wick to hurry and Wick finishes the last bomb, telling Raven to push the button. Their plan seems to work but they are interrupted by Mountain Men who tell them to put their hands up. Raven and Wick realize they're too close to the turbine and start to back away with their hands up. The last turbine explodes and the power goes out all over Mount Weather. Later, Raven and Wick awaken after getting knocked out by the explosion. Raven's leg brace is broken so she can't walk without help. Wick tells Raven he won't leave her just as Mountain Men come in and take them captive.
In Blood Must Have Blood (Part 2), in Mount Weather, the Sky People are all gathered and chained up to the wall. The Delinquent they had been extracting bone marrow from dies and they pick Raven to be used next. They strap Raven to the gurney and Raven bites the ear of one of the doctors, putting up a heavy fight. The guards use a shock baton on her and they get her tied down and begin drilling. Initially, Raven stays strong, but she screams after all.
In the Mount Weather Command Center, Bellamy sees Raven strapped to the table in the dorm room while Clarke tells Cage over a radio that she has his father and she will kill Dante if Cage doesn't let her people go. In the dorm, Cage orders Raven to be removed from the table and has Abby put on instead and they begin drilling into Abby. In the Command Center, Clarke and Bellamy respond by irradiating Level 5, leading to the death of all Mount Weather residents, and the survival of the Sky People, including Raven. The next day, Wick carries Raven into Camp Jaha as they return with the rest of the Sky People. Raven stops Jasper and returns his goggles.
في Wanheda (الجزء الأول) ، ينتهي Raven من العمل على العربة الجوالة التي يخطط Bellamy للقيام بها في مهمة رسم خرائط وتنزلق من تحتها. قررت الانضمام إلى المهمة وأعطتها بيلامي مسدسًا. يرى رافين جينا تقبل بيلامي ويصرخ بأنها جيدة جدًا بالنسبة له ، لكنه يخبر رافين أن يصمت. ثم بدأت في إخراج الطاقم من Arkadia . أثناء السير على الطريق ، ينضم Raven إلى أغنية Add It Up ، ولكن سرعان ما تنقطع عندما ترسل Farm Station إشارة استغاثة قادمة من القطاع 8 ، وهو حدود Ice Nationمنطقة. تقرر العصابة اتباع الإشارة. يقود Raven الجميع إلى الحدود ويقفزون من السيارة. تصر بيلامي على بقاء Raven في السيارة لكنها ترفض ، وتعلق أوكتافيا على أنها بحاجة إلى كل شخص يمكنهم الحصول عليه. يتم الترحيب بالطاقم من قبل ثلاثة من محاربي Ice Nation. بعد أن صعد جاسبر إليه وأخذت الأمور منعطفاً نحو الأسوأ ، أطلق رافين والآخرون النار وقتلوا محاربي الأمة الجليدية الثلاثة.
يعود Raven بأمان إلى Arkadia على ظهر أحد خيول كشافة Ice Nation. بمجرد وصولها إلى البوابة ، تسأل آبي عن كلارك ، لكن رافين تهز رأسها. تدرك آبي أن Raven لا تستطيع النزول من حصانها بسبب ساقها المصابة ، لذا فهي تساعدها على النزول. ومع ذلك ، قرر Raven الاعتناء بالحصان دون مساعدة أي شخص آخر. في وقت لاحق ، تواجه آبي رافين بشأن ساقها وتعتبرها تكذب عندما تقول إن الأمر على ما يرام. قرر Raven أن يتنظف ويعترف بأن الألم بدأ مرة أخرى أثناء انفجار السد. عندما تستمر آبي في الضغط عليها ، ترد Raven بمرارة بأنها يجب أن تهتم بألمها الناجم عن اختفاء كلارك وأنها فشلت في أن تكون مستشارة وطبيبة. عندما يرتاح رافين وجينا في الغرفة المشتركة ،يحاول Macallan سرقة سوار. يمسك Raven بمعصمه ويقول إنه يمكنه الحصول عليه لأغنية واحدة ، وهو يوافق. تظهر آبي وتؤكد لرافين أنها هناك كصديق لها ، ويطلب رافين من آبي أن تشرب اللقطات التي سكبتها جينا لها. يحاول Raven تهدئة جاسبر عندما يذهب في حالة من الهياج ، لكنها تفشل وينتهي به الأمر بمعالجة ماكالان بعيدًا عن البيانو.
في Ye Who Enter Here ، تتوقف عربة الجوالة إلى Mount Weather ومخرج Bellamy و Raven و Gina و Octavia . تشكو بيلامي إلى جينا من عدم حضورها القمة لأن كين تحاول تعليم بيلامي درسًا. يجلبون الإمدادات إلى Mount Weather ويدخلون غرفة الطعام في المستوى 5 ، ويجدونها مليئة بالناجين من Farm Station ، ويأكلون ويستمتعون. يرحب بايك بهم ويشعر كل من رافين وأوكتافيا بعدم الارتياح لما جعلوا أنفسهم في المنزل. يخبرهم بايك أن هناك ستة وثلاثون شخصًا هناك. يحذر أوكتافيا من أن الأرضيين سيعتقدون أن سكاي بيبول قد انتقلوا إلى جبل ويذر قبل مغادرتهم في اشمئزاز. سنكليريصل ويخبر Raven بالعمل على حل المشاكل الكهربائية. في وقت لاحق ، عندما تومض الأضواء وتنطفئ ، يشق رافين وجينا طريقهما مع سنكلير إلى قاعة الطعام ، حيث تم استدعاؤهما هناك في حالة الطوارئ. في قاعة الطعام ، بينما كان بايك وبيلامي يستجوبان إيكو ، يقوم أعضاء آخرون في Farm Station بالاستيلاء على الأسلحة وتسليح أنفسهم. يدخل سنكلير وبايك في جدال حول استخدام الصواريخ في Mount Weather. تقول Raven أنها قد تكون قادرة على المساعدة في الحصول على رموز الإطلاق. يبدأ Sinclair و Raven و Gina في البحث في ملفات الكمبيوتر في مركز قيادة Mount Weather أثناء بحثهم عن الرموز الخاصة بالصواريخ. يقترح جينا أن دانتي ربما يكون قد كتب رموز المرور والأوراق للتحقق من مكتب الرئيس بحثًا عن الرموز.
Both Raven and Sinclair still have not found the launch codes. Raven gets frustrated and gives up because it is already dark and they are too late. Sinclair tells her she is someone who does not give up. He says that if she knows of a way to fix something, she fixes it and the reason she won't fix herself is because she feels she deserves it. Raven asks if she is just broken. Sinclair reminds her that he took a chance on her even with her heart defect and she should take a chance on herself, too. Gina radios in that she has not found anything in the president's office as the Ice Nation assassin arrives behind her and stabs her, mortally wounding her. Raven keeps trying to reach Gina as the assassin clears off the president's desk and triggers a monitor to access the program for Mount Weather's self-destruct feature. Gina reaches the radio and tells Raven about the self-destruct and the assassin. Raven and Sinclair chase after the assassin as he runs out the side-door of the Mountain. Sinclair gets tackled by the assassin and they fight, with the assassin getting the upper hand. Raven arrives in time and shoots the assassin dead. Sinclair gets the numbers as Raven tries to reach Gina but Gina is not responding. She starts to head back into the Mountain as Sinclair tries to stop her. Gina is dead, the countdown reaching zero reflects off Gina's eye and Mount Weather explodes, throwing Raven and Sinclair back and killing all of the Farm Station survivors who were inside.
In Hakeldama, Raven is angry that Abby fired her due to her leg. Abby says that without the supplies of Mount Weather it will probably never heal and Raven storms off. Later, she sees Jaha telling people to take the key. She dismisses him saying that pain can't be relieved that easily. A.L.I.E. tells Jaha that they need Raven. Once she takes the chip, A.L.I.E. says, the others will follow. Jaha goes to talk with Raven but just ends up annoying her even more. He gives her the chip to keep. Later, Raven is in severe pain and decides to take the chip. Her pain isn't relieved immediately so she begins to walk away. As she walks her leg begins to work normally and she sees A.L.I.E. standing in front of her. A.L.I.E. tells her that it is time to get back to work.
In Bitter Harvest, Abby comes to check on Raven and see if she is fit for work. Abby says that Raven can get back to work although she is still suspicious of Raven's abnormal good mood and lack of pain. Jaha and A.L.I.E. ask Raven if she can search for A.L.I.E. 2 in Arkadia. Raven puts A.L.I.E. into Arkadia's programming for Jaha. Jasper asks Raven what drug she is on and where he can get it and she smiled as sends him to Jaha. Raven reports to Jaha and A.L.I.E that she can't find the A.L.I.E 2 in the Ark. The A.L.I.E 2 was not on any of the twelve stations, although it is A.L.I.E. is sure that Becca went into space with it.
In Terms and Conditions, Raven and Jaha are sitting in the cafeteria, talking about how to get the second artificial intelligence. Raven says that she and A.L.I.E. had searched the system of the Ark more than once, but still can't find A.L.I.E. 2 anywhere. Jaha says that they need to get more people to join the City of Light but Raven says that they can't, as Pike has confiscated their chip maker. Jaha says that they need to get it back and Raven asks how. Jaha then looks over to Jasper, who is yelling at Sinclair due to the alcohol restrictions. Raven and Jaha watch the scene and smile.
Jasper and Raven get into Pike's office after they identify the password as "Earth". They search for the chip maker, Jasper says that the situation they're in, reminds him of when the Grounders marched into the camp to get Finn. Jasper asks if the Chips erase only the painful memories but leaves the good ones and Raven says it does. However, she tries to think about her time with Finn after Jasper asks about her necklace and their first kiss. Raven is upset that can't remember her time with Finn. A.L.I.E is alarmed and tries to get Raven focused on getting the chip maker. Raven, however, grows irritated and realizes that she can't remember Finn at all. Jasper eventually finds the chip maker and A.L.I.E tells Raven to take it, but Raven ignores her and resists. She makes Jasper put the chip maker back and leaves without him.
In Fallen, Raven is attempting to block out A.L.I.E. by doing multiple things at once. It briefly works and A.L.I.E. vanishes but then A.L.I.E. reappears tells her the level required to block her out is unsustainable. Raven discusses with Abby and Jasper that she knows how to stop A.L.I.E. She tells them that they can use the wristbands that the original 100 wore can be used to destroy her. A.L.I.E. attempts to stop her but Raven fights back and yells at her. To regain control of Raven, A.L.I.E. she gives her back painful memories such Finn and Mount Weather. Abby and Jasper take her to the medical ward and Abby attempts to help her. A.L.I.E. says that she can make it stop if she submits completely. She submits to A.L.I.E. which allows A.L.I.E. to take over her and possess her.
Raven, possessed by A.L.I.E. tortured Abby to get her to take the chip. When Abby refuses, Raven cuts along her arms with a scalpel. Through Raven, A.L.I.E. tells Abby that the chip is the only way to save Raven's life. After Raven collapses due to blood loss, Abby takes the key. Later, Jasper finds Raven unconscious in the medical ward. She awakes and apologizes to Jasper for scaring him. Jasper is confused by her sudden calmness as she was begging them to get A.L.I.E. out moments before. Jasper sedates her and carries her out. He puts her in the back of the rover and drives off with her, crashing through the walls of Arkadia. The car stops and Clarke is standing in front. Clarke gets in and helps fight off the chipped guards of Arkadia that attempt to get Raven back. Jasper and Clarke drive off with Raven away from Arkadia. A.L.I.E. assured the others that once Raven awakes she will get her back.
In Nevermore, Raven awakes and A.L.I.E. tells her that sees A.L.I.E. 2. She gets Raven to try and find out where she is. Raven runs out of the rover and attempts to see a landmark to identify her location but she fails and is sedated. Raven is taken to Niylah's house and tied to the bed. She awakes and she is guarded by Jasper. A.L.I.E. tells Raven to escape and loosen her bonds by dislocating her shoulder. Jasper calls for Bellamy and the others and Raven growls to be let go. A.L.I.E. asks for the chip via Raven and Clarke says that if she lets Raven die she will never get A.L.I.E. 2. Raven calms down and lets Clarke bandage her.
Clarke takes first watch to ensure that Raven doesn't try and escape again. Clarke is bandaging Raven's arms and Raven calmly thanks her. A.L.I.E. through Raven asks Clarke if she ever sees the faces of the people she has killed. Although Clarke ignores it at first, Raven begins reminding her of the deaths of Wells, Finn, Jake Griffin, and Lexa, claiming they are her fault. Clarke tells her to shut up and gets angry at her. Raven bites Clarke and angers her causing Bellamy to drag Clarke out and accidentally reveal to A.L.I.E. that she is going to fry her, revealing that they plan to use the EMP. Jasper and Bellamy are taking next watch over Raven. She begins to make fun of Jasper and calls him a waste of space and mockingly claims that everybody should protect him. Bellamy sends Jasper out and Raven begins to talk to Bellamy. She reminds him of the last time they were alone and had sex. Bellamy doesn't respond and she replies that there are isn't much to talk about. She asks him if it annoys him that doesn't get credit for the deaths in Mount Weather and reminds him of the deaths that were his fault. She tells him he is not a leader. Clarke has only been back and day already Bellamy is taking orders. She says that it's a shame he was never very devoted to Gina but says that at least he avenged her by murdering the army of grounders. This causes Niylah to storm in and A.L.I.E. now knows where they are.
The group get the EMP device and start to prepare it. A.L.I.E. attempts to make Raven commit suicide as she knows too much but they stop her and hold her down. As the device is being set up, Raven begs Sinclair not to use it as it will give her brain damage but the group uses it anyway. After using the device, Raven slumps and is unconscious. Sinclair is upset and he says that Raven warned them. Clarke then realizes that she has seen Titus extract an AI before and realizes the key could be extracted in the same way. She cuts open the back of Raven's neck and the AI is taken out. Raven then awakes and feels pain about the cut on her neck showing she is un-chipped, much to everyone's happiness. They take Raven outside and Jasper asks her if she is sorry for punching him. She jokingly tells him she sure she has her reasons. Raven later explains that A.L.I.E. 2 is the only way for A.L.I.E. to be stopped and the group leaves to find a nightblood.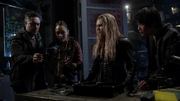 In Demons, in the rover Raven is reading from Becca's journal that Titus gave Clarke and is amazed at what she had achieved. She confirms Clarke's belief that they need to find a nightblood for A.L.I.E. They arrive at Arkadia and are amazed that there is nobody there. Raven and Sinclair examine A.L.I.E.2 with Becca's notebook. Raven realizes A.L.I.E. can be activated with a spoken phrase. She asks Clarke if there was a phrase that Lexa frequently used it may be the password. Clarke says the phrase 'Blood must have Blood' but the chip doesn't respond. Raven sees that Becca used the phrase 'Seek Higher Things' frequently but that doesn't activate the chip. Sinclair translates the phrase 'Seek Higher Things' into Latin and A.L.I.E. 2 activates. Raven examines the chip and the tendrils reach out for Raven but Clarke stops her warning Raven that it will kill her and they need to find it a nightblood host. Raven and Sinclair still in the hanger when Clarke warns them to lock the hanger, although she doesn't realize that Emerson is in there. The lights go off and Raven runs to the rover. She then sees Sinclair has been stabbed and rushes to him, despite him telling her to stay in the rover. Emerson then drags Raven way while Sinclair continues to mutter for her to get to the rover as he dies. Raven is tied up in the airlock with the others by Emerson. Emerson then closes the airlock and Raven starts to suffocate with the others. Clarke uses A.L.I.E. 2 to kill him and frees them all. The group then separates into two, Octavia, Bellamy, Jasper and Clarke head off to find Luna while Raven, Monty, Harper, Miller and Bryan stay to try and access A.L.I.E. The group hug and say goodbye.
In Red Sky at Morning, Raven is looking at the code for the City of Light and she is amazed at all the minds that A.L.I.E. has taken. Raven can see what is in the City of Light by looking at the code, identifying people and buildings. She says she has the password but Monty says that they must wait for Clarke. Harper enters and calls Monty away to help her guard. Raven later returns to find Monty and Harper have slept together. She says, "Finally" and calls Monty away as she had found something. Raven has found a place that is guarded by a moat. She believes it contains the kill switch and is planning to destroy A.L.I.E. To stop them, A.L.I.E. sends Hannah to talk to them. However, Monty deletes Hannah with Raven's help and A.L.I.E. manages to disconnect from Arkadia. Monty yells at Raven and says that they should have waited. He angrily gives her the chip asking her if that's what she wants.
In Perverse Instantiation (Part 1), Jasper, Clarke, Bellamy and Octavia return to Arkadia. Raven asks where Luna is but they explain that she didn't want the flame. Raven stays at Arkadia with Monty, Jasper and Harper. Raven is working when Monty discovers that Jasper is chipped. Upon discovering it, Monty runs to Raven and they lock the door to prevent Jasper coming in. Jasper yells at to be let in. Monty is worried about Harper as she doesn't know about Jasper and Raven tells him to keep Jasper talking as if he's outside the door he won't be searching for Harper, who is still outside. Raven attempts to warn Clarke and Bellamy that A.L.I.E. knows about the plan but Jasper had cut the wires of the radio. Jasper later threatens Monty and Raven with Harper's life. He says that if they don't destroy the machine, he will kill her.
In Perverse Instantiation (Part 2), Jasper still has Harper and is using her to threaten Monty and Raven. Monty tells Raven to keep Jasper talking as he has a plan. Jasper tells Raven that they only have a 2% chance of being successful and asks her if she is willing to risk Harper's life on such a small chance. Monty sneaks around and shoots Jasper and Harper helps him to take Jasper down. Raven looks at them and says that she's glad there is no pain in the City of Light. Later Raven notices that Clarke is in the City of Light. She sees that A.L.I.E. is trying to get Clarke out and Jasper says that as Clarke has gone in with the flame it has updated A.L.I.E.'s programming. Raven realizes A.L.I.E. can delete the kill switch and be unstoppable so they become determined to find it. After A.L.I.E. blocks the path to the kill switch with a firewall, Raven makes a portal to the kill switch appear. When Clarke doesn't enter, Raven wants her to trust her and she puts a Raven on it so Clarke will trust here and go through it. Later when Clarke manages to stop A.L.I.E., Raven is confused when the screens go black. Monty asks her how they know it worked and They see Jasper crying and realizes it has. Raven smiles happily when she realizes A.L.I.E. has been stopped and looks relieved.
في The Four Horsemen ، تجد Raven مع Clarke و Bellamy و Abby بعض أفراد Floukru ، بما في ذلك Luna و Adria، الذين تناولوا الأسماك المشعة وكانوا يعانون من ARS. عندما أرادت آبي استخدام الدواء على أمل مساعدة Adria على الأقل ، لم يوافق Raven على ذلك لأنهم بحاجة إلى الحفاظ على كل الأدوية التي في وسعهم وقد لا يساعد ذلك بعد كل شيء. استمع مورفي للمحادثة سراً أثناء سرقة بعض الطعام وسرق لاحقًا الدواء وأعطاه لآبي مما أدى إلى اكتشاف Raven وشكاوي من كون مورفي لصًا. بعد ذلك ، تم الكشف عن أن الدواء لم يساعد ، وتوفيت أدريا تاركة الجميع مستاءين ، حتى أن ريفين كانت تبكي في عينيها.
في كذبة حراسة ، الغراب يترك أركاديا مع جاكسون ، آبي ، ميرفي ، ايموري ، لونا ، ميلر ، وبضعة الحرس . بمجرد وصولهم إلى جزيرة بيكا ، يغضب ريفن من مورفي ويطلق عليه اسم ديك. ومع ذلك ، بعد أن أنقذ حياتها ، شكرته.
عندما أُجبرت Raven على البقاء في الخلف بسبب إعاقتها ، لاحظت أن لونا تحاول الهروب. يقنع Raven Luna بالبقاء ومساعدتها في تعطيل الطائرات بدون طيار. لقد أنجزت المهمة بنجاح في الوقت المناسب لمنع الطائرات بدون طيار من مهاجمة آبي. أخيرًا ، وصل رافين والباقي إلى مختبر بيكا. يبدو أن Raven مندهش من التكنولوجيا في ذلك المبنى.
في The Tinder Box ، أصيب Raven بجلطة أثناء العمل في مختبر Becca. تجري آبي فحوصات للدماغ وتقرر أن الأمر يزداد سوءًا. تحذر Raven من عدم تجاوز حدود عقلها ، لكن Raven مصممة على المساعدة ، حتى لو كلفتها حياتها. ثم تواصل Raven استخدام ذكائها المتزايد وتوصلت إلى أن Becca ذهبت في الأصل إلى الفضاء لإنشاء مصل Nightblood لأن العملية تتطلب بيئة خالية من الجاذبية. ثم عثرت على صاروخ تركته بيكا ، مما أتاح لهم طريقة للذهاب إلى الفضاء لعكس هندسة المصل.
في We Will Rise ، تتغلب Raven على حالة دماغها ، وتجري عمليات محاكاة لا نهاية لها. آبي يستريح، وترك لونا و ميرفي إلى اتفاق مع تزايد عدم الغراب نطاق السيطرة. ينهار Raven مرتين ، مرة واحدة يلكم مورفي ثم يصاب بنوبة صرع لاحقًا.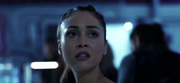 في God Complex ، يلاحظ Raven موت "Baylis" . إنها ضد المخاطرة بحياة المزيد من أجل إيجاد حل. عندما لا يرغب لونا في التبرع بمزيد من النخاع لإجراء التجارب ، يقارن Raven أفعاله بعمليات استخراج نخاع العظم التي قام بها رجال الجبل . عندما توسلت مورفي إلى Raven لمنعهم من أخذ Emori ، أعطته نظرة تعاطف. حاول رافين إقناع كلارك وآبي بالتوقف وإيجاد حل آخر لا يجعلهم قتلة. ومع ذلك ، عندما يطلب كلارك من Raven إعطائهم فكرة أفضل ، لا يستطيع Raven اقتراح أي شيء.
In DNR, Raven's brain is only getting worse. She has another seizure and starts hallucinating Becca who is a metaphor for Raven's conscience and tells her that she is running out of time and that Raven should start deciding how she wants to die. Becca suggested a spacewalk, and will help Raven in the master plan to go up to space so she can enjoy her last moments spacewalking which Raven mentioned that when she was spacewalking "Everything was right."
At the end of the episode, Murphy goes to Raven telling her that it's time to go and she refuses saying that she is basically slowly dying and that she might as well die doing something she loves, spacewalking. Murphy feels extreme sympathy and apologizes deeply for shooting her and disabling her. She tells him that it's not his fault and hugs him with tears in both their eyes. Murphy leaves along with Emori, Miller, and Jackson while Raven is left alone with only her conscience, Becca.
In The Other Side, Raven continues hallucinating Becca who is helping her design the method for going on the last spacewalk before Raven dies. As she is working on the model for the space suit, she begins to have a seizure and fails to reach the seizure kit before starting to also hallucinate Sinclair who grabs her hand before she passes out. When Raven wakes up, she walks over to Becca who she finds duct-taped to a chair. Then Sinclair appears and Raven rushes hugging him tightly before he tells her that she is doing the wrong thing, giving up and accepting death.
Later on, Sinclair and Becca are arguing over what decision Raven should take, pain or life, she turns to Sinclair, announces that she chooses life and they begin planning the method to cure her brain damage. Raven goes into an ice tank and Sinclair tells her that he and Becca will no longer exist after she has gone through with the procedure and she tells him that he will always be with her and Raven begins with the method. After the first part, Raven struggles to get out of the tank before falling out and crawling towards the machine in which she starts using it on herself causing her heart to stop. Seconds later, Raven wakes up gasping for breath and grabs the walkie announcing that "This is Raven Reyes, and I'm alive.".
In The Chosen, Raven contacts Abby informing her that she is safe and has found a cure for the stroke and Abby tells her that she is sending a group of people to come rescue her. As Clarke, Bellamy, Emori, Echo, Murphy are on their way, the rover breaks down and they call Monty and Harper for help, but they decide that they won't have time to save Raven. After that however, Clarke refuses to leave Raven and they arrive to Becca's lab convincing Raven to get the rocket ready and she replies "That deathwave can kiss my ass.".
In Praimfaya, Raven struggles to figure out how to power the rocket and get her friends to space before the Praimfaya hits. She breaks down at some point, but with Bellamy's help, she regains confidence in herself. Using what she learned from Becca, she figures out how to power the rocket. Thanks to Raven's skills, Bellamy, Harper, Emori, Murphy, Monty and Echo manage to get to the Ark and are saved from Praimfaya.
أثناء تواجدها في الفضاء في انتظار أن تصبح الأرض صالحة للسكن مرة أخرى بعد Praimfaya ، كانت Raven تدير السفينة وتدريب Emori كمساعد لها. في عدن ، مرت ست سنوات على Praimfaya لكنهم لم يتوصلوا بعد إلى كيفية العودة بأمان إلى الأرض بسبب نقص الوقود. لاحظوا وجود سفينة غامضة تتجه نحو الأرض ، وسفينة نقلها تهبط على الأرض.
في Sleeping Giants ، يلقي Raven نظرة فاحصة على السفينة ويكتشف أنها سفينة التعدين Eligius IV . تقترح عليهم الحصول على الوقود من السفينة. دخلوا إلى الداخل ليجدوا أنه لا يوجد أحد على متن السفينة. تمكن Raven بسرعة من اختراق نظام السفينة وسرقة ما يكفي من الوقود لإعادتهم إلى الأرض. بدأت أيضًا في الاطلاع على ملفات الكمبيوتر حيث تجد مذكرات فيديو لجميع قبطان السفينة. بمساعدة أصدقائها ، اكتشفوا أن هناك سجناء لا يزالون في السفينة تم احتجازهم في غرف تجميد. بعد أن أدركوا أن أولئك الذين يديرون السفينة ينزلون على الأرض ويطاردون أصدقاءهم ، بيلامييطلب من Raven اكتشاف طريقة لقتل جميع السجناء عن بُعد حتى يتمكنوا من استخدامها كوسيلة ضغط. ومع ذلك ، فإن Raven غير قادر على اكتشاف طريقة للقيام بذلك عن بُعد. لذلك ، عرضت البقاء في السفينة وسحب الزناد من الداخل. يبقى مورفي معها فقط ليخبره Raven بأنها مهمة انتحارية.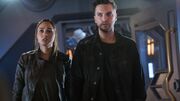 في Pandora's Box ، ترفض ديوزا احترام اتفاقها مع بيلامي وتوجه مايلز شو لاختراق السفينة واستعادة السيطرة. Raven ليس على استعداد لسحب قابس السجناء النائمين وبدلاً من ذلك يخوض معركة قرصنة ضد Shaw. يواصل Raven التعرف على السفينة وتاريخها. تكتشف أن ديوزا كانت إرهابية.
في Shifting Sands ، تم القبض على Raven و Murphy وتم إسقاطهما في الوادي للتعذيب والاستجواب. لا تدعي Raven أي معرفة بكيفية إخراج السجناء من نظام الصواريخ ، لكن السجناء لا يصدقونها. أوقف شو التعذيب ، وبعد مغادرة السجناء الآخرين ، اعترف لرافين بأنه هو من قام بتعطيله لإنقاذ أصدقاء ريفين على الأرض من هجوم ديوزا وألقى باللوم عليها. بعد أن أدركت أنها تستطيع استخدام Shaw ، توصلت Raven إلى خطة من شأنها إخراج مورفي لتحذير الآخرين على الأرض بشأن إطلاق الصاروخ. نجحت الخطة ولا أحد يشك في أن Raven يعمل مع Shaw.
في الخسائر المقبولة ، صدى يأتي إلى وادي مع المنشقين عن اوكتافيا الصورة Wonkru . لقد أعطت Raven محرك أقراص فلاش الذي أعطاها مونتي إياها حتى يتمكن Raven من توصيله بالسفينة للسيطرة على كاميرا السفينة الأم. يعتقد رافين أن الخطة رائعة. يقول Echo أن Murphy ذكر أن Raven كان لديه شخص في الداخل ، Shaw ، ويسأل Raven إذا كان بإمكانهم الوثوق به. ريفين ليست متأكدة لكنها تقول إنها تأمل ذلك. ومع ذلك ، بعد أن طلب من شو المساعدة ، رفض. يحاول Raven التماشي مع بوصلته الأخلاقية لكنها لا تعمل لأن بوصلة شو الأخلاقية هي التي جعلته يساعد السجناء في التمرد في المقام الأول.
Echo then suggests using Shaw locking the missile system against him to get access to the ship. Raven refuses because she doesn't want to betray him. But Echo goes ahead anyway and tells Diyoza that Shaw is a traitor and that Raven can prove it if she were to access the ship's computer system. Raven reluctantly goes along with Echo's plan. While pretending to look for evidence that Shaw disabled the missile system, she shows Echo where to plug in the flash drive. Once the program finishes running, Raven displays a screen showing that Shaw disabled the system. Echo's plan works perfectly, giving Monty control over the camera. Later, in the church, Echo tries to talk to the upset Raven, but a beaten and shock-collared Shaw is brought in.
In How We Get to Peace, Raven is forced by the prisoners to help with a medical equipment. When she goes in, she is thrilled to be reunited with he mentor, Abby. She asks Abby to let the prisoners die but Abby lies to her that she's being forced to treat them by Diyoza. Raven later finds that Abby is helping Diyoza in exchange for drugs. Raven gets very angry that Abby is getting pills if she helps other prisoners. After that experience, Raven is willing to do anything to bring this to an end. When Shaw comes to talk to her, she painfully tells him how she lost her mother, due to alcoholic addiction.
In Sic Semper Tyrannis, Raven is reunited with Murphy and Emori. They start brainstorming escape plans. she comes up with an escape plan in which they would cause infighting between McCreary and Diyoza's people. While the two sides are fighting, Raven and Emori turn off their collars. Raven asks Shaw to come with them and when he refuses, Raven tells him that the other option is for them to kill him. Shaw agrees out of fear and lets them disable his collar. He escapes with them.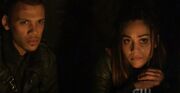 In The Dark Year, Raven and her friends are hiding in the caves with Shaw, Diyoza and Kane. They figure out that Clarke has betrayed Wonkru to McCreary. The Spacekru sneaks out to look for alternative ways to get Wonkru into the valley safely. As they leave, Raven asks Shaw to remain behind. But when they are ambushed by McCreary's henchmen, Shaw comes in to help them fight. Raven gets mad at Shaw for risking his life and for making her worry about him. After that, Raven and Shaw share a passionate kiss.
In Damocles (Part 1), Raven and her friends wait for Wonkru to get in position. They then start shooting at a different spot to divert McCreary's guards from the entrance. Unfortunately, Diyoza and Kane have already betrayed them to McCreary. So, McCreary orders his men back to the gorge to massacre Wonkru. Realizing that Wonkru don't have a leader left to lead them to keep fighting, Echo convinces Raven and Shaw to go with her to get Madi. They find Madi sleeping in the church. Madi accepts to come lead Wonkru and asks Raven to turn off her collar before Clarke finds them. Madi says she's glad to finally meet Raven after hearing so much about her. Suddenly, Clarke comes in and points a gun at Raven, ordering her to stop disabling Madi's collar. Raven calls out Clarke for betraying them. She lets Madi go but Madi quickly knocks down Clarke's gun, giving Raven chance to finish disabling Madi's collar. However, just before they can escape, McCreary comes in and orders his men to capture Shaw and Raven and take them to the transport ship. McCreary intends to torture Raven until Shaw agrees to launch the missiles, killing all of the remaining Wonkru. So, Shaw begs Raven to activate his collar and electrocute him to death so that he won't have to bomb Wonkru. But Raven refuses to kill him.
In Damocles (Part 2), Raven and Shaw are being tortured by McCreary to pressure one of them to fly the Eligius IV transportation ship and launch the missiles to destroy Wonkru. They hold strong for some time but when McCreary threatens to cut Shaw's leg, Raven breaks and agrees to fly the ship. Luckily, Clarke barges in holding Diyoza hostage and threatens to kill Diyoza and her unborn McCreary's baby. Realizing that he's lost the battle, McCreary decides to destroy the valley instead. He launches the hythylodium nuclear fuel towards the ground. McCreary then orders Raven to fly the ship since that's the only safe place once earth is uninhabitable. Clarke asks Raven to obey McCreary's order or else she would shoot Shaw. Raven refuses, arguing that she doesn't leave her friends behind. Clarke starts counting down from three but instead of shooting Raven or Shaw, she shoots McCreary's men instead. Raven and Shaw quickly join the fight. Clarke kills McCreary. However, it's too late because the hythylodium tanks are only about ten minutes away from hitting the ground.
Raven comes up with a plan to load all of Wonkru into the transport ship and fly away away before the attack. She radios Wonkru about the situation and asks Madi to lead her people into the ship. With only a few seconds left, Raven wants to fly the ship but Bellamy and Clarke insist on waiting for Emori and Monty who are lagging behind, carrying Murphy. They make it just as the hythylodium hits the ground. Raven is relieved. Raven and Shaw fly the ship into space. After getting to a safe distance, they start strategizing on how to survive ten years until the earth is habitable again. Raven suggests that they should use the ship's cryogenic chambers to sleep during that time. She argues that the chambers are excellent as they kept the prisoners alive for hundreds of years. Raven's plan for them to go into cryogenic sleep gets support from a lot of people, including Madi.
في Sanctum ، يعد Raven من أوائل الأشخاص الذين استيقظوا لرؤية رسالة مونتي حول "كوكب ألفا" . في حين أن معظم الآخرين متحمسون ومرتاحون ، تكافح Raven للتعامل مع مشاعرها. إنها ليست فقط منزعجة من وفاة مونتي وهاربر ، ولكنها أيضًا غاضبة من كلارك وآبي الذين خانوها وعذبوها. صديقها شو يواسيها. نظرًا لأن Raven هو الطيار الآخر الوحيد ، فقد تركت على متن السفينة الأم بينما كان Shaw يقود Gagarinسفينة النقل على الأرض. بعد وقت قصير من مغادرتهم ، يفقدون الاتصال. يبدأ رافين وجوردان العمل على تغيير مدار السفينة واستعادة الاتصالات. خلال هذا ، اكتشفوا أن "ألفا" هو في الواقع قمر ، وليس كوكب.
عندما لاحظت Raven حبوب منع الحمل على مكتب آبي ، تأخذها بعيدًا لأنها قلقة من أن آبي ستدمن المخدرات مرة أخرى. تريد آبي استخدام الحبوب لإنقاذ كين ، لكن هذا لا يمنع رافين من القلق. تعتقد آبي أن لديها سيطرة أفضل من والدة رافين ، لكن ريفين تقول إن والدتها على الأقل لم تعذبها عندما كانت تتعاطى المخدرات. تتخلى Raven عن محاولتها إنقاذ آبي وتعطيها الحبوب. ومع ذلك ، فإن خطط آبي لإنقاذ كين تتعرض للخطر من قبل أوكتافيا . لذلك ، أعادت الأدوية إلى Raven لحفظها بأمان.
في Red Sun Rising ، يكون Raven في غرفة التحكم عندما يتم اختطاف السفينة من قبل أربعة متسللين قاموا بسرقة Gagarin من الطاقم الأرضي. مع تعرض الجميع للخطر ، يستيقظ Raven لديوزا ويشرح الموقف. توصلت ديوزا إلى خطة تمكنت من خلالها من قتل اثنين من المتسللين والتفاوض على خطة للسماح للجميع بالإفراج عنهم. عندما طالبت قائدة الخاطفين برؤية زوجها على قيد الحياة أولاً ، دفعت ديوزا ريفين لارتداء إحدى بدلاتهم. ريفين وديوزا غير قادرين على خداع كايلي ولكن لحسن الحظ يا ماديينقض وينضم إلى القتال. بعد هزيمة الدخلاء والتعرف على التهديد على الأرض ، يطير Raven ببعض أفراد طاقمه إلى الأرض لإنقاذ صديقهم. إنها متحمسة للقاء شو. ومع ذلك ، عند وصولها إلى برج الإشعاع خارج Sanctum ، شعرت بالحزن للعثور على قبر شو. كان لوفاة شو تأثير عاطفي على ريفين.
في The Children of Gabriel ، ما زالت تتعافى من وفاة شو. كما أنها مستاءة من تولي كلارك القيادة مرة أخرى. ومع ذلك ، فهي توافق على الذهاب مع بيلامي وإيكو وأوكتافيا لتحليق سفينة دروبشيب إلى سانكتوم .
في The Face Behind the Glass ، تحافظ Raven على نفسها بينما يحتفل الجميع بيوم تسمية دليلة . يلاحظ Raven صور بريا (Delilah's Prime) على الحائط ، واحدة منها بها دراجة نارية. تسأل المزيد عن ورشة الآلات حيث يتم إصلاح الدراجات النارية. يأتي كلارك ليعدل مع Raven كجزء من احتفال يوم تسمية Sanctum. تعتذر عن خيانة رافين وشو وأصدقائهم مرة أخرى على الأرض. ترفض Raven قبول الاعتذار لكن كلارك تخبرها أنه قبل أن تموت ، طلبت شو منهم إخبار Raven بأنها تستحق السعادة. هذا لا يهدئ الغراب. بدلاً من ذلك ، تقول إن مشكلة كلارك هي أنها تستمر في تكرار نفس الأشياء وقول آسف وهو ما لا يلغي ما فعلته. ثم يلوم Raven كلارك على أفعالها الأنانية على الأرض. وتقول إن كلارك أسوأ من أوكتافيا لأن أوكتافيا على الأقل لا تتظاهر بأنها شخص جيد. بعد ذلك ، يذهب Raven إلى ورشة الآلات لفحص الأدوات. انها تصطدم Ryker الذي يعترف بأنه لا يهتم كثيرا عن الاحتفالات سواء. رايفن وريكر يسخن لبعضهما البعض بينما يصلح رافين محرك دراجته النارية.
In Memento Mori, Raven returns to Sanctum and is devastated to learn that the Primes have been using Nightbloods as hosts so that they can live forever. When Josephine, pretending to be Clarke, claims that they've all done horrible things to survive, Raven disagrees, saying that she hasn't. She goes to the machine shop with Emori to get started working on a radiation shield so that her group can build their own place like Sanctum. In the machine shop, Raven is upset as she works with Ryker who happens to be a Prime. Ryker figures out that Raven knows and asks her about it. Raven says that as a person who has had pain for years, she understands the need to want another body; but she would never go for it if it means killing another person. Ryker claims that the hosts are willing but Raven disagrees. Raven is disgusted when Ryker mentions that he still keeps gifts given to previous hosts in order to honor them. Since Ryker has been brought back eight times, Raven asks him if that will be his last body but he refuses to answer. Raven leaves to fly Abby to the mother ship.
In Nevermind, Clarke discovers that she survived the implantation of Josephine's Mind Drive due to still having A.L.I.E.'s neural mesh within her head. A manifestation of the AI shows Clarke a memory of Clarke removing the mesh from Raven's mind with the EMP device and warns that if Josephine finds it, the Primes can use it to get rid of Clarke for good. A.L.I.E. helps Clarke to protect the memory from Josephine.
In The Old Man and the Anomaly, Raven is at the mothership with Abby and Simone. She becomes suspicious that Abby intends to save Kane by turning him into a Nightblood and bringing him back in another body using the Primes' Mind Drive technology. After realizing that Simone has convinced a man named Gavin to sacrifice himself to become Kane's host for the glory of the Primes, Raven calls it murder but Simone insists Gavin volunteered. Raven tries to talk him out of it but Simone injects him with the substance to knock him out and wipe his memory. Abby asks Raven to do the spacewalk required to complete the spacewalk but Raven refuses. Abby decides to do it herself, despite Raven's warning that it would kill her. As Abby puts on the spacesuit, Raven feels guilty watching her kill herself. So, she reluctantly agrees to do the spacewalk. She says that she is only doing it to save Abby because she couldn't save her own mother.
In What You Take With You, Raven confronts Abby by asking her if saving Kane was worth it. Her point is proven when Kane disagrees with Abby, saying that it feels wrong that they killed someone else to save him. Raven wakes Indra from her cryogenic sleep and introduces the new Kane to her. After hearing about the Primes, Indra is indifferent at first, but Raven convinces her that they have to bring an end to meaningless deaths like that. Raven comes up with a plan. They would destroy the Nightblood serum already made. The Primes won't be able to get to zero-gravity to make their own serum because they don't have a pilot. If they tried to get to the ship, Indra would stop them. While executing their plan, Raven and Indra are confronted by Abby who pleads with them to stop but Raven refuses. After finding out that Kane intends to float himself, Abby begs Indra to let her talk to Kane but she refuses. However, Raven allows her to go say goodbye.
In Matryoshka, Raven and Abby return to Sanctum only to find Sanctum under lockdown and their friends locked up. Russell orders for them to be locked up too. While locked up with the rest, Raven learns about Madi being controlled by Sheidheda. She reveals that all they need to permanently get rid of Sheidheda from the Flame is to access the AI and delete his files. She asks Gaia to give her Becca's notes once they get out so that she can remove the Dark Commander from the Flame. When Russell decides to execute all of them, Raven and Murphy convince him to change his mind by promising to make more Nightblood out of Madi's bone marrow. Raven and Abby are set free and tasked with making new Nightblood serum.
In Adjustment Protocol, Raven is still trying to figure out a way to delete Sheidheda from the Flame in order to save Madi. Sheidheda takes control of Madi and threatens to kill Madi if Raven doesn't stop trying. Clarke asks Raven to help her lower the radiation shield but Raven asks to stick behind in order to continue working on saving Madi. Russell forces Raven to continue drawing bone marrow from Madi despite her weakening state. To buy Raven and Madi some time, Abby turns herself into a Nightblood so that they can draw the bone marrow from her instead of Madi. Raven says that the bone marrow is only enabling the Primes to kill more innocents.
Abby apologizes to Raven for not listening to her and for letting her desire to save Kane crowd her judgment about the Primes' practices. Raven apologizes to Abby too for being too hard on her. Later on, Raven and Abby are shocked when Russell decides to use Abby as the new host for his wife Simone. Raven tries to save Abby but Russell wipes Abby's mind. Raven watches in tears as Abby dies in front of her. After taking over Abby's body, Simone forces Raven to fly the Primes to the mothership. When Raven refuses, Simone points a gun at Madi, forcing Raven to comply. After arriving at the ship, the Primes and Clarke pretending to be Josie hold Raven, Madi and Gaia hostages.
في From the Ashes ، تستريح مع آخرين في Farmhouse. إنها تتفهم الحزن الذي تشعر به كلارك بعد فقدان والدتها وتحاول إيجاد بعض الكلمات لإسعادها. وتقول إنها تشعر بالقلق حول Sheidheda الصورة اختفاء ويريد للبحث مرة أخرى الكمبيوتر على الأم . تعد بعض الطعام وتخرج حيث تلقي خطابًا عن الأصدقاء الذين لم يعودوا معهم.
في وقت لاحق ، مع المجموعة في طريقهم إلى Sanctum ، تحدثت عن بناء مجمعهم الخاص ، والذي سيستغرق 2-3 سنوات. تمت مقاطعتها من قبل جيمس الذي حذرها من مشكلة في المفاعل والتي ذهبت على الفور لإلقاء نظرة عليها.
كما التوترات بين الأطفال جبريل ترتفع والمؤمنين الحقيقيين، غراب يسأل ميرفي و ايموري لاستخدام وضعهم من يعبي في محاولة لأسفل الجميع الهدوء الذي يسمح Wonkru للتحرك رسل من سجنه في القصر.
في لعبة False Gods ، يسعى Raven إلى الحصول على مساعدة Emori لأن المشاكل المستمرة مع مفاعل Sanctum النووي تؤدي إلى فقدان الطاقة. يجد ريفين وإيموري أن جيمس وكورا قد ماتا وأن المفاعل محموما ، ويقترب من الانهيار النووي. يجمع الغراب كلارك، ميرفي، ايموري و إندرا لمعالجة هذه المشكلة لأنها تحتاج Nightbloodsللعمل في المفاعل. يشرح Raven المشكلة ، قائلاً إنه إذا وصل المفاعل إلى 1500 درجة ، فسوف يذوب ويدمر Sanctum. يذكر Raven أنه سيتعين على شخص ما الدخول في احتواء أولي للحصول على قضبان التحكم في مكانها بينما سيحتاج الفريق إلى إصلاح نظام التبريد في الاحتواء الثانوي. نظرًا لأن الاحتواء الأساسي هو بيئة عالية الإشعاع ، فلن يكون Nightblood ضمانًا ولكنه سيساعد. كلارك متطوعة ، لكن لا يمكنها ذلك لأنها مضطرة للتركيز على إعدام راسل القادم. تقرر Raven تعيين Emori لإصلاح قضبان التحكم ، ولكن إذا لم تستطع القيام بذلك في 60 ثانية ، فسيتعين على Murphy تولي المهمة بينما Wonkruسوف تتعامل مع الأنابيب. ريفين واثقة من أن التعرض للإشعاع لن يكون قاتلاً وترفض اقتراحات استدعاء سجناء إليجيوس للمساعدة لأنها لا تثق بهم.
يحضر Raven الاجتماع حيث تطلب Indra المساعدة من Wonkru فقط لتتخلى عنهم بعد معرفة الحقيقة حول Flame . مع عدم وجود خيار آخر ، يقترب Raven من Hatch و Nikki وثلاثة سجناء آخرين من Eligius للمساعدة ، مما يقلل من الخطر الذي يواجههم. يوافق هاتش على المساعدة في مقابل كل عصير جو الذي يمكنهم شربه على الرغم من بقاء نيكي في الخلف.
مع ارتفاع درجة حرارة المفاعل فوق 1450 درجة ، يرسل Raven الجميع إلى وظائفهم ، على الرغم من أن مورفي أعربت عن استيائها من أكاذيب Raven على الرغم من أنها تتجاهلها حسب الضرورة قبل أن تفكك Emori الجدل. بينما تكافح Emori لإصلاح قضبان التحكم في 60 ثانية ، تصرخ Raven بإرشادات لها. على الرغم من بقائها لبضع ثوانٍ طويلة جدًا ، فقد نجحت ، لكن درجة الحرارة تستمر في الارتفاع ، وإن كان ذلك بمعدل أبطأ. على الرغم من أن هاتش تضغط على Raven لإعادة توجيه المبرد لأن الضغط مرتفع للغاية ، إلا أنها لا تستطيع تحمل ذلك لأن المفاعل قريب جدًا من الذوبان.
With Emori getting sick from the radiation and not enough time left, Murphy presses Raven to get in and help the prisoners, stating that he will "spin the dials" for her. However, Raven states that it is too complicated for her to leave it to Murphy before he suddenly becomes sick too. Raven realizes that more radiation must be leaking than she thought as Murphy never entered primary containment and the prisoners start to collapse too. Raven refuses to pull the men out as they are almost done and lies as she refuses to trust them to do the right thing. Raven insists that the men are already dead from the radiation and they can still finish the job or everyone will die with not even Nightblood being enough to protect people.
With Emori becoming weak, Raven assures Murphy that she will be fine as Nightblood metabolizes radiation and they can get her to Jackson. As Hatch calls for more nitrogen, Raven sends Murphy to bring it to Hatch then locks Murphy in with Hatch to force Murphy to help fix the problem, relying on his sense of self-preservation. Raven warns that they are 10 degrees from meltdown and must weld faster. Much to Raven's relief, at the last possible second, Hatch and Murphy manage to fix the cooling system and avert the meltdown. To Raven's horror, a radiation-burned Hatch comes to the window to tell Raven that "you're welcome" before collapsing, dead, from the radiation poisoning he suffered.
After the meltdown is averted, Murphy and Raven remove the bodies to the machine shop. As Murphy stands over Hatch's body, an upset Raven states that she's responsible. Murphy agrees, commenting that "the mighty have fallen. Welcome to the world of gray." Nikki enters with a few other Eligius prisoners looking for her husband and violently assaults Raven in her rage. Murphy and Emori attempt to intervene, but are both thrown aside multiple times. Finally, the other prisoners drag a still-screaming Nikki away. Murphy and Emori attempt to help Raven to Medical, but she rejects their help as she sits and cries. Shortly after, Murphy, Raven and Emori enter Medical for treatment of their injuries and radiation poisoning, creating a distraction that allows Sheidheda to get a report from Alyssa.
In Hesperides, Raven continues to be haunted by the deaths of Hatch and the three other Eligius prisoners and is monitoring the reactor when Clarke seeks her help to study the armor of a deceased Disciple recovered from the forest. With other Disciples demanding Clarke's surrender, she warns Raven that they don't have much time and Raven promises to come on a motorcycle if she learns anything, having been taught to ride by Ryker Desai. Alongside Jordan Green, Raven studies the armor with the two reminiscing on how the last time they worked together, they had discovered that Sanctum is a moon not a planet. To Raven's surprise, Jordan reveals that he got stabbed since they last worked together, causing Raven to apologize for not coming for him sooner. After removing the helmet, Raven experiences a brief hallucination of Hatch beneath the mask. Raven realizes that the armor is controlled by thought and manages to activate the suit's HUD, learning from it that the Anomaly is a wormhole. However, the armor's file on Clarke causes Raven to realize that Clarke's life is in danger.
Later, as Clarke, Miller, Niylah and Gaia are in a standoff with eight Disciples, Jordan interrupts and orders his friends to get down. Wearing the dead Disciple's armor and cloaked, Raven kills the eight Disciples with the armor's energy weapon, saving her friends. However, Raven tells Jordan that she is not okay as she has just killed eight people which is wrong.
Raven leads her friends to the room containing the Anomaly Stone where the Anomaly is now located, taking the form of a small circular portal. Raven explains that the Anomaly leads "everywhere" while Clarke states that they must get to Skyring to pick up their friends' trail. Raven attempts to use the HUD to find the correct planet, but discovers that it doesn't give names but symbols for each planet with six planets in a network though one is offline. On Clarke's instruction, Raven chooses a planet that she thinks looks fun and enters the symbols given into the Anomaly Stone.
Raven leads Clarke, Jordan, Miller and Niylah through the Anomaly while Gaia stays behind to warn the others and protect Madi from Disciple retribution. However, the group emerges on the ice planet of Nakara instead of Skyring. Though they all want to travel to a different planet, the Anomaly closes behind them and they are left upon an ice field with no sign of an Anomaly Stone to set a new destination.
In Nakara, Raven examines her armor's HUD and learns that they are on Nakara which has a function of Ossuarium as Clarke calls for their missing friends and they realize that they are on the wrong planet though Niylah quips that she thinks the planet is "pretty cool" in a joke about Nakara's frozen state. Raven locates the Anomaly Stone 2 kilometers away in a cave using the armor's HUD. Clarke spots something in the snow nearby and she and Raven uncover a body wrapped in a burial shroud. Raven realizes that Ossuarium means a burial ground and recognizes the symbol on the shroud from the star map, giving them the right planet to travel to next. Uncovering the body's face, Clarke discovers that it is that of a human and not an alien as Jordan had hoped. The group sets out across the ice field to find the Anomaly Stone and get their friends back.
Reaching the cave entrance, Raven leads her friends inside, telling them that the Stone is 200 meters away. Raven activates a light in her helmet and begins making her way towards the Stone, commenting that she hopes none of the group is claustrophobic as they are forced to crawl through a narrow tunnel. The group realizes that it suddenly smells while Raven states that the temperature is up 50 degrees from the surface which she figures means that there is a thermal heat source of some kind down there. As the group approaches an opening, they begin hearing strange noises and Raven spots something moving ahead of her. As Raven stops, knowing that something is down there, a spider-like creature attacks, chewing at Raven's helmet. Finally, Raven deploys her armor's blade and strikes at the creature, forcing it to retreat, but leaving Raven's helmet damaged.
Needing to reach the Stone, Raven leads the others through the opening into a larger chamber where she removes her helmet and catches her breath. Raven brushes off Jordan's questions about the creature as she examines her damaged helmet, but Niylah discovers that the tunnel opening has suddenly sealed behind them, preventing the group from retreating to the surface. When Jordan touches the wall where the opening used to be, he discovers that it is acidic and Raven states that they aren't going that way anyway, puts her helmet back on and continues leading the group towards the Anomaly Stone.
Raven eventually leads the group to within 40 meters of the Stone, but reaches a dead end with the Stone on the other side of a wall. As Raven suggests backtracking to find another route, Jordan states that its not a good idea as the sounds of more of the creatures are heard. Suddenly, the ground shakes and another wall separates Raven and Clarke from Jordan, Miller and Niylah. Clarke attempts to move the wall, but removing her helmet and looking around closer, Raven realizes that they are not in a cave but a living organism and the acidic fluid that is dripping around them is digestive enzyme. Clarke and Raven realize that this means that they are the creature's next meal.
Trapped, Raven questions how Clarke always stays strong no matter what. Clarke states that that's not true, but Raven admits that she is haunted by the Eligius prisoners that she sent to their deaths in the nuclear reactor and the eight Disciples she killed later that night causing Raven to "feel like my soul is cracked open" while Clarke just continues on despite everything that has happened to her and everything that she is done. Raven suggests that they are experiencing karma for all of the people they've killed, but Clarke insists that the people they've killed has been to save the people that they love. Raven points out that the people they've killed loved people too and wonders when it ends. Clarke reassures Raven that it doesn't end there and Raven's soul isn't cracked, calling Raven probably the best person that she knows. Crying, Raven admits that she could've welded the reactor pipes herself but she was too scared to do it and instead sent Hatch and his people to die. As Raven breaks down, Clarke hugs and comforts her friend.
As Raven and Clarke embrace, Miller, Jordan and Niylah are forced to open fire on more of the spider-like creatures, causing the creature that they are inside of to shift again and reopen the wall between the two groups much to Clarke and Raven's pleasure. The group discovers that this latest shift has also opened the path to the Anomaly Stone. However, Raven discovers that her damaged helmet makes the map too blurry to read and struggles to identify the correct planet from the symbol discovered on the burial shroud. Raven attempts to think the map into focus and refuses to just pick another planet at random and risk ending up on the wrong one as Niylah insists that she should do. As Raven continues working, Miller discovers a piece of cloth with the symbol of the Second Dawn on it, suggesting a link between the cult and the Disciples.
As more creatures are heard approaching, Raven finally manages to bring the star map into focus and finds the symbol for the correct planet. As the others hold off the creatures, Raven enters the code into the Anomaly Stone, causing the Anomaly to open nearby and scare away the creatures. Ordering the others to have their weapons ready as they don't know what's waiting for them on the other side, Clarke leads her friends through the Anomaly.
In The Queen's Gambit, the group arrives on Bardo where, to their shock and grief, Gabriel reveals Bellamy's apparent death.
In Anaconda, Clarke and Raven comfort each other over their shared grief before Bill Cadogan arrives. Cadogan and Gabriel Santiago reveal that the Disciples believe that Clarke still has the Flame in her head and Cadogan asks if his daughter Callie's consciousness is still in there. Clarke claims that it is, but refuses to help Cadogan due to Bellamy's apparent death and demands that their friends be sent in. To everyone's shock, when Echo, Octavia and Diyoza enter, they are in full Disciple armor and appear to have been brainwashed to the Disciple cause.
In The Flock, one of Nikki's demands after taking hostages is that Raven turn herself over so that Nikki can exact her revenge for Hatch's death. With no sign of Raven or their other friends on Sanctum, Murphy and Sheidheda turn themselves over and Murphy attempts to lie that Raven is elsewhere which Nikki doesn't buy. When time runs out and Raven fails to appear, Nikki prepares to execute Emori instead. However, Murphy reveals that it was his idea to use the Eligius prisoners, not Raven's and attempts to talk Nikki down. The situation is resolved when Wonkru invades the Great Hall through a secret tunnel and forces the prisoners and Children of Gabriel to surrender.
In A Little Sacrifice, a shocked Clarke demands that Cadogan allow all of her people to return to Sanctum in exchange for her help in using the Flame. However, Echo states that they aren't going anywhere as they have a war to fight. Echo leaves the room followed by Octavia and Diyoza with Octavia not saying a word as she leaves. When Clarke demands to know what was done to her friends, Anders simply states that they are now ready to serve mankind in the last war. After the Disciples, aside from Cadogan, are evacuated from the Stone room, Gabriel explains that the Disciples think that Clarke has the Flame due to seeing Octavia's memory of Clarke using it to destroy A.L.I.E. The group realizes that the fact that Echo, Octavia and Diyoza never told the Disciples the truth means that they are only playing along with the Disciples and have not really joined them.
Returned to their room, Octavia becomes annoyed with Diyoza's pacing and anger over Hope's unwillingness to play along, reassuring her friend that they will get Hope out before she is sent to Skyring. As Diyoza wonders how, Clarke, Nathan Miller and Raven enter and Clarke and Octavia immediately share a hug. The two apologize to each other while Diyoza expresses surprise at the lack of guards. Raven explains that Clarke threatened not to help with the Flame if the Disciples got in their way. Raven compliments Octavia on not telling the Disciples the truth about the Flame and she explains that she thought it was good leverage since they were bound to show up eventually. Looking at a silent Miller, Octavia tells her old friend that they're glad that they did before hugging him. After a moment, the surprised Miller returns the hug at Octavia's insistence.
Hope suddenly arrives, causing everyone to turn their guns on her before Diyoza reassures them that Hope is not one of the Disciples. Hope instantly recognizes Clarke, Raven and Miller from her mother's descriptions of them and Diyoza explains that Hope is her daughter and that "time dilation's a bitch." Hope insists that they need to get off of Bardo immediately and that there is currently no time for explanations or introductions. As they leave the room, Clarke realizes that Echo is missing and Hope brushes it off, stating that Echo will catch up which no one believes and Octavia quickly realizes that Echo is getting revenge for Bellamy. Hope warns them that they only have 45 minutes to get off of Bardo and that she doesn't know what Echo's plan is, just that Levitt helped her with it and didn't tell Hope more because Echo knew they'd get it out of Hope and try and stop her. Worried about Levitt, Octavia heads off to check on him followed by the others.
Clarke's group discovers a tied-up and beaten Levitt who admits that he broke after Echo killed two people in front of him. Levitt states that he was forced to help Echo get Gen-9, the bioweapon that wiped out the native Bardoans and will deploy it through the central humidification system on the Machine Level. Raven realizes that it will take time to go from its entry point to the vents and Echo will make a run for the Stone room. Hope insists that they should too while they still have time. Levitt begs Octavia to release him so that he can get help, but Hope warns Octavia that if they do, the Disciples will kill Echo. Octavia decides to replace the gag in Levitt's mouth as she and the others go after Echo.
As Echo is about to release Gen-9, Hope and the others show up to stop her, upsetting Echo as Hope was supposed to get them all out. Octavia attempts to talk Echo down, understanding her desire for revenge over the loss of Bellamy. Octavia insists that there are good people on Bardo, but Echo is dismissive of this, pointing out that Levitt stole Octavia's memories from her and in the process, put everyone into this situation in the first place. Clarke steps forward and tries to convince Echo that this is the wrong thing to do based on her own experiences with making choices when there was another solution and that they can learn to live with their grief, but deciding to commit genocide is something that will always stay with them.
However, Echo states that their situations are different as Clarke only takes lives to save the people that she loves while Echo is killing everyone on Bardo for vengeance "pure and simple." Echo believes that if the Disciples had killed any of them, that Bellamy would be doing the exact same thing. Raven insists that Bellamy wouldn't do it, that while the Bellamy that helped to massacre a sleeping army sent to protect Arkadia might've done it, the Bellamy that Spacekru spent six years on the Ark with, the one that Echo loved, would not. Raven calls Echo her sister and says that her sister wouldn't do it. Clearly conflicted, Echo states that Raven is wrong and moves Gen-9 over the humidification system again. Raven refuses to leave Echo, promising that if Echo releases the bioweapon, she will stay right there and Echo will have to kill her too. Breaking down in tears, Echo finally relents and Raven pulls her into a hug as Diyoza takes the Gen-9 from Echo's hand.
Before the group can leave, they are interrupted by Anders who is enraged at Echo killing three more Disciples, torturing Levitt and attempting to use Gen-9 to commit genocide. The situation dissolves into a standoff when 4 Disciple guards decloak behind Anders who agrees to send Echo to Skyring for 20 years for punishment unless Clarke fails to help them use the final code to begin the last war in which case Echo will die on Skyring instead.
Suddenly, Hope states that she has a better idea, "you die here" and slits Anders' throat, killing him. As Anders drops Gen-9, Hope catches it and attempts to release a single drop into the humidification system. However, Diyoza catches the drop in the palm of her hand and shuts the hatch on humidification system. As Diyoza begins to crystalize from the bioweapon, Hope tries to rush to her mother's side but is restrained by Octavia while Diyoza orders the others to get Hope out. Octavia drags a desperate Hope from the room as she shouts apologizes at her mother for her actions. In her last moments, Diyoza tells Hope "don't waste it little one. Be better than me." Screaming in grief, Hope watches as her mother, Anders' body and the entire room is crystalized.
In Blood Giant, Gabriel approaches Sheidheda, wondering what is going on. The Dark Commander demands to know who Gabriel is and Clarke realizes that it isn't Russell. Otis introduces Sheidheda and Raven comments that they now know where his code went. The Dark Commander demands that everyone either kneel or die, but Cadogan informs him that while he normally would relish the opportunity to recruit Sheidheda's forces to the cause, he has neither the time nor the patience to do so at the moment.
On Cadogan's signal, cloaked Disciples kill the Dark Commander's Wonkru guards, allowing Raven, Indra and Clarke to rush to help the tied-up Murphy. Murphy comments that he can accept invisibility and ray guns, but he needs an explanation for Bellamy's new status. Clarke asks if Madi is safe with Gaia, only to learn that everyone else had thought that Gaia was with her. Murphy reassures Clarke that Madi is safe for now and Cadogan orders Indra restrained with Sheidheda against everyone's wishes. Cadogan points out that Indra was standing by the throne and states that the only reason she isn't dead is that she was unarmed. Sheidheda charges Cadogan, but a still-cloaked Disciple stabs him in the gut. Cadogan has a Disciple bring the palace's microphone over and the the Dark Commander that his wound is deep and Cadogan has no interest in removing Sheidheda from his throne. Cadogan proposes that the Dark Commander gives him undisturbed passage to get what he came for, meaning that Cadogan sees not a single soul on their path and in exchange, Cadogan will leave Gabriel there to treat him. Once the Disciples are gone, Sheidheda is free to "continue the debasement of our species" until he is saved along with the rest of humanity once Cadogan completes his quest although the other option is for the Dark Commander to die. With Sheidheda agreeing, Cadogan orders the others that it's time to go after the Flame.
Outside, Cadogan derisively observes the state of Sanctum, but monologues about how thanks to the Disciples, humanity will transcend and reach the Promised Land, much to Clarke's annoyance. Clarke begins leading the group through Sanctum and Murphy approaches Bellamy, believing that he is only playing along with the Disciples and asking what his plan really is. Bellamy informs Murphy that it isn't an act and that it's real and he is trying to save them all. While Bellamy doesn't expect Murphy to understand, Bellamy tries to reassure Murphy that he is still Murphy's friend and Bellamy is looking out for him. Not at all reassured, Murphy walks away from Bellamy, much to his distress.
Approaching Clarke and Raven, Murphy begs for them to tell him that Bellamy is not serious, but Raven confirms it. Murphy and Clarke admit that they both feel out of the loop and Clarke asks what he means that Madi is safe for now. Murphy reassures Clarke that Madi is safe with Emori in the reactor, shocking Clarke. Murphy informs Raven and Clarke that believe it or not, the reactor is the safest place in Sanctum and Raven wonders what the hell has been going on in Sanctum while they've been gone. Cadogan orders the group to stop and Clarke tells him that she's in a hurry and that he has their friends and she would like to have them back and then to see her daughter. If Cadogan would like to see his, he has to follow her. Cadogan announces a new plan: Clarke goes while everyone else stays there. Bellamy objects, reminding Cadogan that as long as their friends are out there, Clarke won't risk their lives. Cadogan states that that's why Raven and Murphy are staying with them and orders Clarke to hurry along as Cadogan doesn't want to be on Sanctum for any longer than he has to be. After looking at Bellamy for a moment, a frustrated Clarke walks off alone. Murphy suggests waiting in the tavern, but is stopped by two armed Disciples decloaking in front of him. Raven tells Murphy that he will get used to it and the two exchange quips about how well the other did as Cadogan, Bellamy and Doucette settle onto a vantage point to keep watch.
Sitting around a campfire, Raven informs Murphy of the developments since they last saw each other. Murphy asks if its weird that to him the craziest part of all of it is Bellamy's robe which Raven agrees with. Raven points out how calm Bellamy seems to be despite the fact that Echo and Octavia are hostages and Murphy reminds Raven that they are hostages too. However, Raven knows that something happened to Bellamy while he was on Etherea that caused him to change.
Suddenly, alarms begin going off warning that Red Sun toxin has been detected. Murphy and Raven join the Disciples and Bellamy urges Cadogan to get back to Bardo for his own safety. Cadogan refuses to leave without the Flame and suspects that it might just be another one of Clarke's tricks. Raven draws everyone's attention to the sky where the gas giant that Sanctum orbits has been turned red by the eclipse and affected bugs are attacking Sanctum's shield. The power goes out as people begin rushing for Ryker's Keep and Murphy suggests that they should join them unless Bellamy wants to drown him again in the pond. Raven realizes that the power being out means that the shield is down and spots a swarm of affected bugs coming towards them. Raven urges everybody to run which Bellamy agrees with, but Cadogan refuses to leave without the Flame. Doucette agrees that they should execute the hostages and get Cadogan home which Murphy points out isn't what Bellamy had said. Bellamy states that Clarke heard the alarm too and will go for Madi who Murphy states is in the reactor. Raven agrees that it's perfect as she can get the power back on and kill the bugs before the bugs kill them. The Disciples, Raven, Murphy and Bellamy all grab a torch and race towards the machine shop and the reactor.
The group arrives just after the swarm has killed Knight and two other members of Wonkru who were trying to break into the reactor. Using their torches, the group drives off the swarm and seals up the machine shop on Bellamy's orders in order to keep them out. Clarke arrives carrying a bag before they can finish sealing off the machine shop and explains that it contains anti-toxin from the farmhouse. Cadogan realizes she wants to use it on Madi, but Clarke states that there's enough for everyone, although Clarke was thinking of her daughter before Cadogan. Everyone takes the anti-toxin and Cadogan calls it "another lesson in the destructiveness of familial love."
Clarke tries to get through the locked door to the reactor without any success and Cadogan questions if she got the Flame or not. Clarke promises that if Cadogan gets her through the door, she will give it to him without a fight. Cadogan agrees and has Disciple Kelly blast open the door. As everyone in the reactor takes cover and Emori aims her gun at the door, Murphy enters and reassures Emori that it's the good guys while Clarke and Madi embrace. As Raven enters and embraces Emori, struck for a moment by the memory of Hatch's death, Murphy reassures the people hiding in the reactor that they have enough anti-toxin for everyone. Raven realizes that Emori took down the shield and begins working to get the power back on. Cadogan enters with his Disciples and Clarke silently hands over the Flame much to Cadogan's delight.
Raven is able to restore power to the reactor and the shield, but notices a leak springing up in secondary containment. Raven slowly enters secondary containment to deal with the leak, haunted by memories of Hatch's death. Raven quickly fixes the leak, but is confronted by the vengeful Nikki armed with a box cutter which she holds to Raven's throat. As Raven starts crying, Nikki demands that she explain what she did before Nikki kills her in revenge. Emotionally, Raven recounts how she sent Hatch and his men into the reactor despite knowing that radiation was leaking and that she had locked them in when it got really bad out of fear that Hatch was as much of a coward as Raven herself was. Raven admits that Hatch wasn't, that he was brave and that she had chosen to let Hatch and his men die and to save herself instead. Stating that it should've been her instead, Raven begs Nikki to kill her if it will give Nikki peace. Becoming emotional, Nikki decides not to kill Raven and to leave Raven to live with what she did instead. Raven sinks to the floor in tears as Nikki leaves and the concerned Murphy, Emori and Clarke rush to her side after seeing Nikki exit the reactor in tears. Seeing Raven's state, her friends comfort Raven together.
With the shield restored and the bugs gone, the Disciples, Bellamy, Clarke, Murphy, Emori and Raven make their way to the Great Hall where an armed Indra, having dispatched the Disciples left behind by Cadogan to guard her and Sheidheda, demands to know where her daughter is. Cadogan is confused as to who Indra is talking about and Bellamy tells Indra that nobody even knew that Gaia was missing until that day. Bellamy promises that they will get everybody back and orders Indra to put down the gun which Indra does after Clarke confirms his order. Urged on by a hallucination of Josephine Lightbourne, Gabriel reveals that he believes that he can repair the Flame's damaged code using a computer designed to repair broken Memory Drives, stitching together broken strings of code that, like the Flame itself, was created by Becca Franko. Cadogan gives Gabriel the Flame who inserts it into the computer and states that if Becca's memories are still inside, the computer will find them. The computer successfully begins repairing the Flame's code, but Gabriel suddenly changes his mind and destroys the Flame completely with a gunshot. Gabriel turns his gun onto Cadogan and orders the Disciples to take off their helmets and drop their weapons which they comply with. As Gabriel takes the anti-toxin, Bellamy attempts to calm him down, stating that they need Cadogan to get their friends back, including Echo and Hope. Taking advantage of Bellamy distracting Gabriel, Doucette attempts to attack him only to be shot in the chest by Clarke. Horrified, Bellamy catches Doucette who urges his friend not to lose faith before dying.
With the situation under control, Clarke orders Raven to fire up the Anomaly Stone so that they can get to their friends. Using a Disciple helmet, Raven is able to reactivate the Stone and demands to know which planet their friends are on. Cadogan informs Clarke that the planet if off-line and only he knows the code to it. Checking the star map، يقرر Raven أن Cadogan يقول الحقيقة وأن هناك كوكبًا واحدًا لا يمكنهم الوصول إليه. يطالب كلارك كادجوان بإدخال الكود في مقابل الحصول على العيش وهو يمتثل ، وفتح الشذوذ لأصدقائهم المفقودين. يذكر كادوجان أن لديهم الجسر لأصدقائهم ، لكن كلارك أمر كادوغان بالحضور معهم وأخبرها أنه يجب أن يكون لديها إيمان أكثر. مع اقتراب بيلامي ، أمره كلارك بالبقاء في الخلف حيث اتخذ بيلامي خياره بينما يأمل مورفي حقًا في أن ما يؤمن به كان يستحق ذلك. يؤكد بيلامي أنه كان كذلك ، ويقود رافين مورفي وإيموري وجاكسون ومادي وغابرييل عبر Anomaly مع عدم نطق أي شخص آخر بكلمة واحدة لصديقهم السابق. يتم متابعتهم من خلال Anomaly بعد فترة وجيزة من قبل Indra و Cadogan و Clarke.
شخصية
"Raven مجرد بدس حقيقي. إنها فتاة رجل ، ذكية جدًا ، شرسة وصعبة. إنها رصيد ضخم بسبب ذكائها ... أرى Raven تساعد الفتيات على الاهتمام بالعلوم والهندسة والميكانيكا. إنها تجعل الأمر يبدو رائعًا. " - ليندسي مورغان
لدى Raven إرادة قوية ولا يخشى كسر القواعد. يلاحظ آبي أن شخصية رافين تشبه شخصية كلارك. لديها مزاج قصير كما هو موضح عندما تهاجم نيجل في أوقات مختلفة ، وتضرب الميجور بيرن ، وتلكمات كلارك ، حتى أنها تصرخ وتهاجم مورفي. إنها أيضًا ذكية جدًا ومفيدة للمنحرفين وترغب في التضحية بنفسها لإنقاذ أصدقائها. تتحدث Raven عن رأيها ولا تخشى أن تقول الأمر كما هو. إنها ليست شجاعة للغاية وعزمًا وعمل دؤوبًا ، فقد أثبتت Raven في مناسبات متعددة أنها أقوى عقليًا من الآخرين في التغلب على النكسات المستمرة. لديها موقف المسترجلة المتمرد ومستقلة للغاية. رغم أنها في بعض الأحيان يمكن أن تكون منافقة وحكمية.
على الرغم من أن Raven قتلت أشخاصًا عدة مرات ، إلا أنها لا تشعر بالبهجة في ذلك. في الموسم السابع ، تطارد Raven بإرسال أربعة من سجناء Eligius إلى وفاتهم لإصلاح مفاعل نووي ثم الاضطرار إلى قتل ثمانية من أتباعها لإنقاذ أصدقائها بعد ساعات فقط. في محادثة مع كلارك حول هذا الموضوع ، صرحت Raven بأنها تشعر وكأن روحها قد تحطمت من جميع الوفيات التي تسببت فيها وتشير إلى أن الأشخاص الذين يقتلونهم لديهم أشخاص يحبونهم أيضًا.
مظهر جسماني
Raven هي شابة ذات بشرة زيتونية وعينين بنيتين ووجه بيضاوي وشعر بني غامق. غالبًا ما يتم سحب شعر Raven الطويل إلى نصف جديلة ونصف ذيل حصان. يبلغ طولها 5'5 بوصات (1.65 م) وتتمتع بلياقة بدنية رياضية ، كما يظهر رافين وهي ترتدي الأقراط.
عادة ما يرتدي Raven قميصًا رماديًا داكنًا مع سترة وجينز داكن وأحذية. غالبًا ما تظهر بألوان داكنة مثل الأسود والرمادي. ومع ذلك ، غالبًا ما ترتدي سترتها الحمراء المميزة. اعتبارًا من الموسم الثاني ، ترتدي Raven أيضًا دعامة لساقها على ساقها اليسرى من أجل مساعدتها على المشي.
في الموسم الخامس ، بعد قفزة ست سنوات ، لم تعد Raven ترتدي سترتها الحمراء المميزة. لديها ذيل حصانها أعلى قليلاً مع قطع في الأمام وشعر جديلة فوق شعرها.
في الموسم السادس ، ترتدي Raven شعرها الفضفاض تمامًا.
في الموسم السابع ، لم تعد Raven ترتدي شعرها الفضفاض ولديها ندبات وإصابات على وجهها بعد أن تعرضت لهجوم شرس من قبل نيكي . كما أنها تقضي معظم الموسم في ارتداء بدلة تلميذة ميتة فحصتها في " Hesperides " على الرغم من تلف الدرع ، وخاصة الخوذة ، وجربت من وقتها في ناكارا . بعد الوصول إلى باردو والكشف عن تدمير بيلامي للشعلة ، تضطر رافين إلى التخلص من بدلتها والبدء في ارتداء الملابس العادية مرة أخرى.
العلاقات
فين كولينز
المقال الرئيسي: فين ورافين
كان فين كولينز
صديق رافين وعائلتها الوحيدة. اجتمعوا في وقت ما على
السفينة
وشوهدت وهي تحاول زيارته في السجن قبل أن تكتشف أنه واحد من
100
أرسلوا إلى
الأرض
. بناءً على طلب
أبيجيل جريفين
، أعادت بناء حجرة هروب عمرها 132 عامًا للسفر إلى الأرض بشرط السماح لها بالذهاب مع آبي ، حيث كان لديها شخص تحبه على الأرض أيضًا. عندما وصلت إلى الأرض ووجدت فين ، كانت متحمسة لرؤيته وقبلاها أمام
كلارك
، الذي لم تكن تعرفه قد نام مع فين في الليلة السابقة. عندما رأت رافين تفاعل كلارك وفين ، بدأت تشك في حدوث شيء بينهما. واجهت كلارك وجعلتها تخبرها بالحقيقة ، لكنها قررت بعد ذلك مواصلة علاقتها مع فين على أي حال لأنها تحبه. بمجرد أن ترى أن فين يعرض حياته للخطر من أجل كلارك ويتردد في فعل الشيء نفسه لها ، ينفصل ريفين عن فين. عندما يسلم الفنلندي نفسه للتعذيب والقتل في
فيلم
"
Spacewalker
" ، يشعر Raven بالضيق بشكل واضح ويعطي كلارك سكينًا لقتل
Lexa
به. عندما تقتل كلارك فين بدلاً من ذلك ، تشعر بالحزن وتلقي باللوم على كلارك.
كلارك جريفين
المقال الرئيسي: كلارك ورافين
Raven و
Clarke Griffin
صديقان. كان كلارك هناك عندما وصل Raven لأول مرة ، وتفاعلوا. لقد كانوا ودودين لدرجة أن كلارك اكتشف أن رافين كانت صديقة فين. تسبب هذا في أن يكون الاثنان بعيدًا لفترة من الوقت. لقد عملوا معًا في نهاية
الموسم الأول
، وساعد رافين Clarke في نهاية الموسم بتفجير صواريخ دروبشيب. قال لها كلارك "سأختارك". يظهر أن الفتيات قد كونن احترامًا متبادلًا وبدء صداقة. ينتظر Raven خارج خيمة Clarke عندما يعود Clarke من
Mount Weather
. يواصلون العمل معًا في خطتهم لإنقاذ الـ 48 داخل الجبل. عندما تحاول Clarke إنقاذ التحالف مع الأرضيين ، تقتل Finn. تم تدمير Raven وهي غاضبة جدًا من Clarke حتى أدركت أن Clarke قامت بالاتصال الصحيح. ساعدت Raven كلارك على تذكيرها بما كانت عليه عندما كانت تسير في طريق مظلم في منتصف الطريق خلال
الموسم الثاني
. في
الموسم الثالث
، يعمل كل من Raven و Clarke معًا للمساعدة في القضاء على ALIE ، ويبدو أن الاثنين كانا ودودين مرة أخرى لأن كلارك مصممة على مساعدة Raven عندما تستولي عليها ALIE
بيلامي بليك
المقال الرئيسي: رافين وبيلامي
يبدأ Raven و
Bellamy Blake
كخصوم عندما تكون Bellamy هي أول من وجد Raven وجرابها. يسرق بيلامي راديو Raven ، الطريقة الوحيدة للتواصل مع الفلك ، ويلقي به في النهر. ساعدها لاحقًا في العثور على الراديو عندما
تخبرهم عن The Culling
. لاحقًا ، بعد أن اعتقد رافين أن فين لم يضيع الوقت في المضي قدمًا مع كلارك بعد انفصالها عنه ، ينتظر رافين بيلامي داخل خيمته. تنام معه على أمل أن تشعر نفسها بتحسن ، رغم أنه متردد في البداية. بعد ذلك ، اعترفت بأن ذلك لم يساعد. بحلول
الموسم الثاني
، تطورت علاقتهما إلى احترام متبادل وتقدم بيلامي راحتها بعد وفاة فين.
كايل ويك
المقال الرئيسي: رافين وويك
رافين
وكايل ويك زميلان
. غالبًا ما يُشاهدون يتشاجرون في غرفة الميكانيكا / العلوم. لقد تعاونوا لصنع أجهزة راديو وكشف لغز الضباب الحمضي. في حلقة "
حارس الأكاذيب الشخصية
" ، ينامون معًا ويظهرون أن لديهم نوعًا من المشاعر تجاه الآخر ، على الرغم من اعتراف Raven بأنها ليست جاهزة بعد. عندما يتعين على Raven و Wick العمل معًا لإيقاف Mount Weather ، يقترب الاثنان من بعضهما البعض ، مع مطالبة Raven لـ Wick بعدم التخلي عنها. ومع ذلك ، في "
Wanheda (الجزء 1)
" ، يكشف Raven أنهم لم
يعودوا
يرون بعضهم البعض بعد الآن.
سنكلير
المقال الرئيسي: رافين وسنكلير
Raven و Sinclair صديقان حميمان وكانا في الماضي زملاء عمل على متن السفينة . لديهم علاقة أب وابنة ويهتمون ببعضهم البعض. يقول سنكلير أن رافين كان كل ما تركه. ينظر إلى Raven بحزن عميق لوفاة سنكلير.
سنكلير شخصية تحترمها Raven بشدة وتقدرها حقًا وتريد أن تبذل قصارى جهدها من أجلها. سنكلير هي شخص أصبح رمزًا لها ورأى إمكاناتها منذ البداية. إنه السبب الذي جعلها تصبح مهندسة ميكانيكية على الإطلاق. يدين Raven بالكثير له ويريد دائمًا التأثير عليه والقيام بعمل جيد.
جاسبر جوردان
المقال الرئيسي: رافين وجاسبر
رافين وجاسبر صديقان. لم يتفاعلوا حقًا حتى
الموسم الثالث
عندما أخذ Raven الرقاقة. في البداية ، أرادت جاسبر واحدة أيضًا وساعدتها في استعادة صانع الرقائق. ومع ذلك ، عندما أدرك رافين أن الشريحة لم تسلب الذكريات السيئة فحسب ، بل الذكريات الجيدة أيضًا ، بدأ كلاهما في
التخطيط
لإخراج الشريحة من رأس Raven وتدمير
ALIE
.
أبيجيل جريفين
المقال الرئيسي: رافين وأبيجيل
التقى رافين
وأبيجيل جريفين
على السفينة بعد أن اكتشف رافين أنهما أرسلوا الـ 100 على الأرض ، وطلب آبي من رافين عمل قطرة من أجل معرفة ما إذا كان الـ 100 يعيشون. يتشارك رافين وآبي في علاقة مريض وطبيب وأم وابنتها. على الرغم من الجدل في كثير من الأحيان ، إلا أنهم يهتمون ببعضهم البعض لأن آبي مستعدة لأخذ المفتاح لإنقاذ حياة رافين. تعرض ريفين للدمار بعد وفاة آبي في الموسم السادس.
إموري
المقال الرئيسي: رافين وإيموري
يصبح Raven و
Emori
صديقين بينما يعيشان لمدة ست سنوات في الفضاء على الحلبة. علم رافين ميكانيكا إيموري والقيادة أثناء وجوده على الحلبة. أصبحوا أصدقاء مقربين واختار بعضهم البعض الأسرة.
ظهور
يقتبس
Raven to Clarke : "لقد طلبت مني أن أكون مسؤولاً عن التقنين ، وأنا أفعل ذلك ، لكن اختيار من يعيش أو يموت هو تخصصك".
---
---
رافين : "إذن ، ماذا ، لقد عشت طويلاً بما يكفي ليموت أي شخص آخر؟ لا يمكنني فعل ذلك آبي. حتى لو كلفني ذلك حياتي ... عليك أن تسمح لي بالرحيل."
رافين رييس : "أولاد وبنات ، قابلوا إليجيوس الرابع."
رافين رييس : "ألفا ليس كوكبًا ، إنه قمر!"
- الحرم
---
رافين رييس : "لقد بدت ميتًا بشكل أفضل".
الضحايا القتلى
الملاحظات والتوافه
قد ينحدر Raven Reyes من The Grounder Floyd Reyes.
في الأصل ، كان من المفترض أن تكون Raven هي والدة Finn البالغة من العمر 35 عامًا وتظهر في " Pilot " ، لكنهم أزالوها من الحلقة لأنهم لم يعتقدوا أنهم بحاجة إليها وكان الوقت طويلًا جدًا. بدلاً من ذلك ، أعاد الكتاب رافين كصديقة فين. [1]
حتى قبل أن تصبح Lindsey Morgan سلسلة منتظمة ، ظهر Raven في كل حلقة تقريبًا. الحلقتان الوحيدتان اللتان لم يُنسب لهما مورغان هما " Pilot " و " Earth Kills ".

صرحت مورغان أن Raven كان سيُقتل بعد خمس حلقات ، ولكن بعد ذلك تم تمديد دورها. [2] قالت أيضًا أن المنتجين سمحوا لها بتحديد ما إذا كانت تريد الاستمرار في العرض وستصبح مسلسلًا منتظمًا في الموسم الثاني ، ولكن إذا لم ترغب ليندسي في ذلك ، لكان رافين قد مات في الموسم الأول . [3]

تم ذكر والدة Raven في الموسم الأول ، لكن ما حدث لها غير معروف حتى كشفت Raven في " How We Get to Peace " أنها كانت مدمنة على الكحول وشربت نفسها حتى الموت على The Ark .
اعتادت Raven أن تمتلك قلادة غراب (صنعتها Finn في عيد ميلادها) وكانت ترتديها باستمرار. ومع ذلك ، أعيدت قطعة المجوهرات إلى الفنلندي عند تفككها.
أهدر السير في الفضاء غير القانوني لرافين ثلاثة أشهر من الأكسجين ، وربما أطلق أحداث المسلسل.
خلال " مهارات الأرض " ، تلاحظ آبي أن Raven "لديها شيء لمجاري الهواء" ، مما قد يعني هوايتها في السفر داخل الأنفاق.
الغراب هو ثاني غير الجانحين وArker مئة لتطأ قدماه على الأرض، أولها بيلامي بليك .
Raven هو أول شخص يتصل بـ Ark from Earth منذ 97 عامًا من خلال بناء راديو يعمل.

كما قامت ببناء أجهزة اتصال لاسلكية عاملة.
من المفترض أيضًا أن Raven كانت مسؤولة بطريقة ما عن بناء جهاز دردشة الفيديو الذي تم تقديمه لأول مرة في " Day Trip " على الرغم من أنه من غير الواضح كيف تمكنت من تحويل راديو صوتي فقط ، والذي تم إصلاحه بأجزاء من سيارة RC ، إلى جهاز مؤتمر فيديو.

بعد وصولها إلى الأرض ، يبدو أن Raven تمكنت من إصلاح بعض أنظمة هبوط السفن الجانحة نظرًا لإضاءة داخلية مرة أخرى في " المحتويات تحت الضغط ".
Raven هو واحد من ثمانية أشخاص من Sky People تركوا خارج Mount Weather بعد المعركة والاختطاف اللاحق في معسكر الجانحين . الآخرون هم: بيلامي ، ستيرلنج ، زوي مونرو ، فين ، جون مورفي ، أوكتافيا ، ومخالف لم يذكر اسمه.
Raven هو الشخص المعطل الوحيد في Sky Person في السلسلة.

لم يخبر رافين آبي من أطلق النار عليها.

في فيلم " The 48 " ، تم الكشف عن Raven بامتلاكه نظارات جاسبر الواقية.
Raven was the only person who was able to temporarily resist A.L.I.E. after taking the key to the City of Light.
In Season Four, Raven has several strokes due to lingering effects from A.L.I.E. At one point, she decides to die. However, in "The Other Side", she decides to live and finds a solution to the issue by inducing a near-death experience.

As mentioned in "The Blood of Sanctum," she continues to retain the intellect she gained from A.L.I.E. even after getting rid of the other lingering effects from her encounter with the AI.
Raven is the only one is known to have gotten an upgrade from A.L.I.E because of her skills with computers. A.L.I.E upgraded her brain to which Raven can code which she could not originally do. After the EMP it damages Raven's brain. Raven says that when they EMPed the chip it was like her brain was a ram and it was suddenly cut off with part of Becca's code in her brain.

So far, Season Four is the only season that Raven didn't kill or indirectly kill anyone.

In Season Six she also didn't kill anyone. However, she destroyed the Flame while trying to delete Sheidheda. In the process, she may have destroyed the consciousnesses of the Commanders such as Lexa and Becca Franko, but it is currently unknown if they survived or not.

At the crew panel at Unity Day 2018, it was revealed that Raven's brace was remade for the fourth season because Lindsey Morgan found the original brace (used in Season Two and Three) heavy and uncomfortable.[4]
Raven and Nathan Miller are the only two characters who were introduced in Season One after "Pilot" who are known to be still alive.
Raven only once spoke to Kane in "What You Take With You" after six seasons.
Raven had a hand in the termination of both A.L.I.E. and A.L.I.E. 2.0. In the former case, Raven helped lead Clarke to the kill switch to destroy the AI and was in fact the one who discovered the kill switch's existence in the first place by hacking into A.L.I.E. In the latter case, Raven activated Sheidheda's kill code to save Madi Griffin.

في القيام بذلك، وخداع الغراب في تحميل Sheidheda إلى رسل Lightbourne الصورة العقل محرك ، مما يسمح Sheidheda لإحياء نفسه.
ومن غير المعروف إذا تم تحميلها معنويات القادة الآخرين أيضا، وهذا يعني أن الغراب قد يكون مسؤولا أيضا عن تدمير consciousnesses من بيكا فرانكو و LEXA وغيرهم كذلك.

في الموسم السابع ، على عكس بقية المجموعة التي تنتمي إليها ، تظهر Raven أنها تعتمد على أسلحة درع Disciple التي ترتديها بدلاً من البنادق مثل الآخرين ، حيث تقوم بتسليح معصمها كلما كانت في موقف تتطلب أسلحة .
صالة عرض